Nearest performances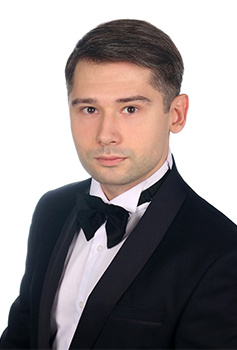 Biography
Graduated from the Saint-Petersburg Rimsky-Korsakov State Conservatoire (Dmitry Karpov's class) in 2016. At the Saint-Petersburg Conservatoire Theatre he sang the following parts: Geronimo/ Il matrimonio segreto by Cimarosa, King Rene/ Iolanta by Tchaikovsky, Old Gipsy/ Aleko by Rachmaninov. He has attended master-classes given by Neil Shicoff, Luciana Serra, Alexei Steblyanko, and has also studied singing with Nikolai Okhotnikov. In 2017, he was a probationer at the Accademia Teatro alla Scala (Milan).


In 2015-2018, he appeared in productions of Mozart's Die Zauberflöte (Sarastro), Verdi's Un ballo in maschera (Tom) and La Traviata (Marchese d'Obigny) at the Mikhailovsky Theatre (Saint Petersburg) .

In November 2018, Alexander Borodin joined the Bolshoi Theatre Opera Company.
In December 2018, he made his Bolshoi Theatre debut as Don Prudenzio in Il Viaggio a Reims new prodiction.

Repertoire
Don Prudenzio (Rossini's Il Viaggio a Reims)
Carlotto (Donizetti's Don Pasquale)
Second Guest (Dargomyzhsky's The Stone Guest)
The Third Actor/ The Third Robber (Banevich's The Story of Kai and Gerda)
Flemish Deputy, Monk (Verdi's Don Carlo)
Narumov (Tchaikovsky's The Queen of Spades)
Bomelius (Rimsky-Korsakov's The Maid of Pskov, concert version)
Tom (Verdi's Un Ballo in Maschera)
Colline (Puccini's La Bohème)
Doctor Grenvil (Verdi's La Traviata)
Zuniga (Bizet's Carmen)
Mill-hand/ Officer (Shostakovich's Katerina Izmailova)
Third sailor (Rimsky-Korsakov's The Tale of Tsar Saltan)
Mityukha (Mussorgsky's Boris Godunov)
Bertrand (Tchaikovsky's Iolanta)
Naval Captain (Puccini's Manon Lescaut)
Second soldier, A Cappadocian (Strauss's Salome)
Orlik (Tchaikovsky's Mazeppa)
Leporello, Masetto (Mozart's Don Giovanni)

In march 2019, he took part in Bolshoi Theatre Opera Company tour to France.

Print