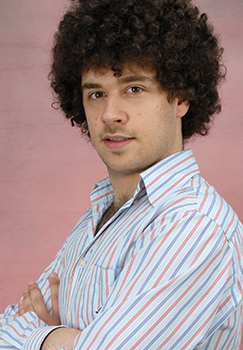 Biography
Davide Giusti was born in Civitanova Marche (Italy) and graduated with honors at the "G. B. Pergolesi" Music Conservatory in Fermo. He then specialized with Elisabetti Lombardi, Renata Scotto, Raina Kabaivanska e Alberto Zedda.

He successfully participated in prestigious international competitions, such as: Operalia International Competition 2017 (II prize); "M. Caniglia" in Sulmona; "O. Ziino" in Rome; he also won the 2nd Prize at the "Renata Tebaldi" Lyric Contest.

In 2012, he attended the Accademia Rossiniana in Pesaro under the guidance of Alberto Zedda and made his debut of Cavaliere Belfiore in Rossini's Il Viaggio a Reims.

Davide Giusti made his debut as Nemorino in L'elisir d'amore in Rome (Teatro Olimpico), he played again the role in Rieti, Osnabruck, Liege (conducted by B. Campanella), and lately in Fermo and Nice. He participated as L'Amante in Menotti's Amelia al ballo at the Festival dei Due Mondi in Spoleto; he then starred in L'Enfant Prodigue in Ancona and Cagliari; as Rinuccio in Gianni Schicchi in Cagliari, Parma and Montpellier.

Mr. Giusti sang several times La Traviata for the As.Li.Co circuit in Italy and again in Lecce, Brindisi (Chung/ Kemp), Piacenza (Paszkowski / Mazzavillani Muti), Darmstadt, Liege and Charleroi. He took part at the live recording in Rieti of Bellini's I Capuleti e i Montecchi as Tebaldo for the label Glossa (Fabio Biondi conducting the Europa Galante orchestra), recently a revival took place in Warsaw and Bremen.

He achieved remarkable successes as Rodolfo in La Bohème in Reims (conducted by J. Perez Sierra), Perm and Dortmund (under the baton of T. Currentzis), Massy. He also performed in the role of Fenton in Nicolai's Die lustigen Weiber von Windsor in Liegi; Young Konrad in Tutino's Le Braci (Francesco Cilluffo conducting) at the Festival Valle d'Itria in Martina Franca and in Florence; Don Ottavio in Don Giovanni in Treviso and Ferrara; Cassio in Verdi's Otello in Macerata; Madama Butterfly in Tel Aviv; Rigoletto in Trieste, Liege and Charleroi; Respighi's La bella addormentata in Cagliari.

Widely active also in concert, his recent performances include: Haydn's S. Cecilia Mass with the Orchestra Sinfonica Abruzzese and Mozart's Requiem with Roma Sinfonietta at the Auditorium S. Cecilia in Rome and most recently in Cagliari; Rossini's Stabat Mater in Sanremo (conducted by G. Gelmetti) and in Milan; Great Mass in C Minor in Palermo and Genoa; Petite Messe Solennelle in Saint-Étienne, San Marino and Lima (A. Zedda conducting). He then performed the Beethoven's Ninth Symphony in Mannheim, Munich and in Nuremberg. Most recently, he performed in Händel's Messiah in Oviedo and Donizetti's Requiem in Taranto and Rome under the baton of G.Gelmetti.

During those years, he collaborated with such conductors as Kent Nagano, Alberto Zedda, Bruno Campanella, Francesco Lanzillotta, Gianluigi Gelmetti, Fabio Biondi, Christian Zacharias, Teodor Currentzis.

Discography
Petite Messe Solennelle by G. Rossini (Brilliant Classic, 2014)
I Capuleti e i Montecchi by V. Bellini (conductor F. Biondi and Europa Galante, Glossa, 2015)
Le Braci by M. Tutino (conductor F. Cilluffo, Dynamic, 2015)
Il Natale degli Innocenti by N. Rota (conductor G. Grazioli and LaVerdi Milano, Decca, 2016)



Print
All in group
Sergio Escobar
Davide Giusti
Maxim Mironov
Gaston Rivero
Giovanni Sala