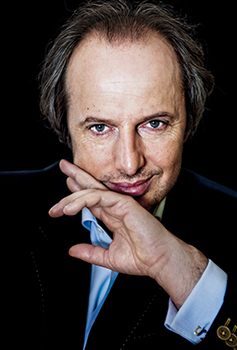 Biography
Bulgarian operatic baritone, Vladimir Stoyanov graduated from The Academy of Music of Sofia, and later perfected himself at the Academy of La Scala and at the "Boris Christoff" Academy in Rome under the guidance of bass Nikola Ghiuselev.

His soft and extended baritone voice, and his natural talent for singing legato and drama accent, led him to the Belcanto repertoire with particular attention to the Verdi repertoire.

He debuted at San Carlo in Neaples, as Macbeth, in Macbeth (Giuseppe Verdi) in 1998. This italian debut, very soon will bring him in the major opera houses arround the world including: La Scala Theatre (Milan), Opernhause in Zurich, La Fenice Theatre (Venice), Metropolitan Theatre (New York), Teatro dell'Opera (Rome), Teatro Comunale (Bologna), Teatro Carlo Felice (Genoa), Teatro Real (Madrid), Teatro del Liceu (Barcelona), Wienerstaatsoper (Wien), Deutsche Oper (Berlin), Staatsoper (Berlin), Teatro San Carlo (Neaples), Arena di Verona, Teatro Regio (Parma), Teatro Regio (Turin), Palau Reina Sofia (Valencia), Teatro of Maestranza (Seville), CPA Center of Performing Arts (Beijing), Bolshoi Theatre (Moskow), NHK (Tokyo), Maggio Musicale Fiorentino (Florence), Teatro Massimo (Palermo), Teatro Municipal (Santiago del Chile), Bayerische Staatsoper (Munchen), Concertgebouw (Amsterdam) Teatro de las Belles Artes (Mexico City) and many others.

He collaborated with leading conductors such as: Zubin Mehta, Daniel Oren, Yuri Temirkanov, Sergei Osawa, Mariss Jansson, Placido Domingo, Riccardo Muti, Myung Whun Chung, Marco Armiliato, Donato Renzetti, Philippe Jordan, Gianluigi Gelmetti, Stefano Ranzani, Evelino Pido and with prestigious directors such as: Hugo de Ana, Franco Zeffirelli, David Mc Vicar, Robert Carsen, Stefan Herheim, Emilio Sagi, Ignacio Garcia, Pier Luigi Pizzi, Stefano Poda, Leo Muscato and many others.


Print
All in group
Valery Alexeyev
Tommaso Barea
Oleg Fedonenko
Rodion Pogossov
Vladimir Stoyanov