Nearest performances
Awards
3rd prize-winner at the Competition for Young Opera Singers in Barcelona (1992)
2nd prize-winner at the Luisa Toddi International Singing Competition in Lisbon (1993)
3rd prize-winner at the Mirjam Helin International Singing Competition in Helsinki (1994)
3rd prize-winner at the Competition of Vocalists in Perpignan (1994)
3rd prize-winner at the Competition for Young Opera Singers in Marseilles (1995)
3rd prize-winner at the Stanislaw Moniuszko Competition of Vocalists in Warsaw (1998)
prize-winner at the Irina Arkhipova Grand Prize of Moscow Television competition (1997)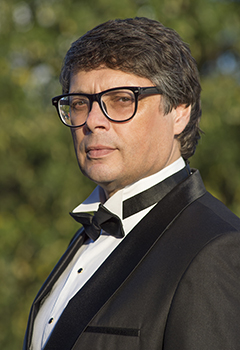 Biography
Born in Irkutsk, in 1987, he completed his studies at the Tchaikovsky Music College in Ekaterinburg.
In 1992, he graduated from the Gnesin Russian Academy of Music (Natalia Shpiller's class).
From 1990-95, he was soloist with the Ekaterinburg Theatre of Opera and Ballet.
From 1995-56, he was soloist with the Moscow Novaya Opera Company.
In 1996, he joined the Bolshoi Theatre Opera Company as soloist.


Repertoire
at the Bolshoi Theatre:

Georges Germont (La Traviata)
Prince Yeletsky (The Queen of Spades)
Robert (Tchaikovsky's Iolanta)
Pantalone (Prokofiev's The Love for Thee Oranges)
Afron (Rimsky-Korsakov's The Golden Cockerel)
Virgily (Rakhmaninov's Francesсa da Rimini)
Shchelkalov (Mussorgsky's Boris Godunov)
Misgir, Shrovetide Effigy (Rimsky-Korsakov's The Snow Maiden)
Marcello (La Boheme)
Title role (Eugene Onegin)
Sharpless (Madama Batterfly)
Verdi (Desyatnikov's The Children of Rosenthal)
Prince Andrei Bolkonsky (Prokofiev's War and Peace)
Morales (Carmen)
Fyodor Poyarok (Rimsky-Korsakov's The Legend of the Invisible City of Kitezh and of the Maiden Fevronia)
A clock, A cat (L'enfant et les Sortilèges)
The Second Actor, The Second Robber (Banevich's The Story of Kai and Gerda)
Seargeant (Katerina Izmailova)
Don Carlos (The Stone Guest)
Doctor (Bernstein's Candide)
Messenger (Rimsky-Korsakov's The Tale of Tsar Saltan)

Also in repertoire:
Renato (Un Ballo in Maschera)
Figaro (Il Barbiere di Siviglia)
Conte di Luna (Il Trovatore)
Valentin (Faust)
Silvio (Leoncavallo's Pagliacci)
Ferdinand (Prokofiev's Betrothal in the Monastery)
Tours
He tours in Austria, Germany, Italy, South Korea, Japan, USA and elsewhere.
In 2001, he sang Robert in a concert performance of lolanta at the Big Hall of Moscow Conservatoire (conductor Vladimir Fedoseyev).
He has appeared at Washington National Opera in productions of Madama Batterfly (2001-02) and La Boheme (2002-03).
In 2003, he took part in the Lugano Festival (Switzerland, conductor Vladimir Fedoseyev).
In 2004, appeared at the Maria Bieshu Invita festival in Moldova.
In 2007, he sang Robert (lolanta) at the Teatro Filarmonico (Verona, conductor Vladimir Fedoseyev).
He is a constant participant in the Irina Arkhipova Presents festivals.
Discography
Tchaikovsky's Iolanta — Robert, conductor Vladimir Fedoseyev, Relief, 2003.
Mahler's Symphony No 8, conductor Vladimir Fedoseyev, Relief, 2005.

Print
All in group
Andrei Grigoriev
Vasily Sokolov