Awards
Merited Artist of the Russian Federation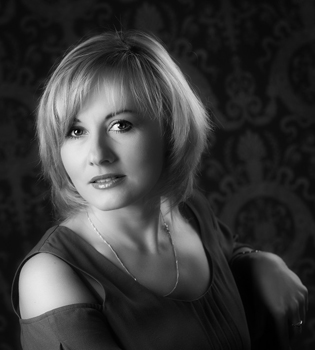 Biography
Graduated from the Cherepovets Art College named after Vasily Vereshchagin, choral conducting department, and from the academic vocal department of the Petrozavodsk State Glazunov Conservatoire (class of Valery Volchkov).

From 2004-10, she was a soloist with the Rostov State Musical Theater.
In 2010-19, a soloist with the Astrakhan State Opera and Ballet Theatre opera company. She took part in open air projects of the theatre Russian Operas in the Astrakhan Kremlin.

Since October 2019 she has been a member of the Opera Company of the Primorsky Stage of the Mariinsky Theatre.

In 2015, Elena Razgulyaeva made her debut at the Bolshoi Theatre as Mimi (La bohème by Puccini), soon after she appeared in the title role in Iolanta by Tchaikovsky. In 2019, she starred as Amelia (Un ballo in maschera by Verdi) and Manon (Manon Lescaut by Puccini).

Repertoire
at the Primorsky Stage of the Mariinsky Theatre:

Elisabeth de Valois (Don Carlo by Verdi)
Aida (Aida by Verdi)
Lady Macbeth (Macbeth by Verdi)
Floria Tosca (Tosca by Puccini)
Turandot, Liù (Turandot by Puccini)
Madama Butterfly (Madama Butterfly by Puccini)
Nedda (Pagliacci by Leoncavallo)
Liza (The Queen of Spades by Tchaikovsky)
Tatyana (Eugene Onegin by Tchaikovsky)
Tsaritsa Militrisa (The Tale of Tsar Saltan by Rimsky-Korsakov)
Nikoletta (The Love for Three Oranges by Prokofiev)
Madame Peronskaya (War and Peace by Prokofiev)
Maria (Mazepa by Tchaikovsky, concert performance)
Nastasya Filippovna (Idiot by A. Smelkov, concert performance)

Repertoire also includes:

Micaëla (Carmen by Bizet)
Marguerite (La damnation de Faust by Berlioz)
Elvira (Don Giovanni by W.A. Mozart)
Amelia (Un ballo in maschera by Verdi)
Violetta (La traviata by Verdi)
Leonora (Il trovatore by Verdi)
Desdemona (Otello by Verdi)
Manon (Manon Lescaut by Puccini)
Mimi (La Bohème by Puccini)
Iolanta (Iolanta by Tchaikovsky)
Yaroslavna (Prince Igor by Borodin)
Fornarina (Raphael by Arensky)
Susanna (Khovanshchina by Musorgsky)
Fevroniya (The Legend of the Invisible City of Kitezh and the Maiden Fevroniya by Rimsky-Korsakov)


Tours
Toured in the UK, USA, Ireland, Spain, and Portugal.

Print
All in group
Anastasia Barun
Olga Maslova
Elena Razgulyaeva