Awards
Merited Artist of the Russian Federation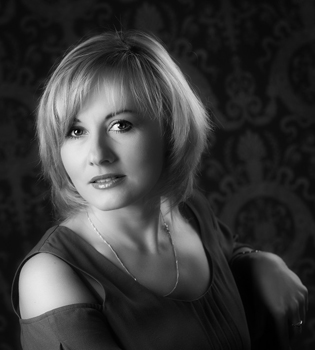 Biography
Graduated from the Cherepovets Art College named after Vasily Vereshchagin, choral conducting department, and from the academic vocal department of the Petrozavodsk State Glazunov Conservatoire (class of V. Volchkov).

From 2004-10, she was a soloist with the Rostov State Musical Theater.
In 2010 she joined the Astrakhan State Opera and Ballet Theatre opera company.


Repertoire
at the Astrakhan State Opera and Ballet Theatre:

Yaroslavna (Borodin's Prince Igor)
Fornarina (Arensky's Raphael)
Micaela (Bizet's Carmen)
Nedda (Leoncavallo's Pagliacci)
Donna Elvira (Mozart's Don Giovanni)
Mimi (Puccini's La bohème)
Floria Tosca (Puccini's Tosca)
title part (Puccini's Madama Batterfly)
Liu (Puccini's Turandot)
Violetta Valéry (Verdi's La Traviata)
Leonora (Verdi's Il trovatore)
title part (Verdi's Aida)
Desdemona (Verdi's Otello)
Tatiana (Tchaikovsky's Eugene Onegin)
Liza (Tchaikovsky's The Queen of Spades)
title part (Tchaikovsky's Iolanta)
Fevronia (Rimsky-Korsakov's The Legend of the Invisible City of Kitezh and of the Maiden Fevronia)
Marguerite (Berlioz's La Damnation de Faust)

In 2015, Elena Razgulyaeva made her debut at the Bolshoi Theatre as Mimi /La bohème by Puccini, soon after that she appeared in the title role /Iolanta by Tchaikovsky.
In 2019, she starred as Amelia /Un ballo in maschera by Verdi and Manon /Manon Lescaut by Puccini.


Print
All in group
Anastasia Barun
Elena Razgulyaeva