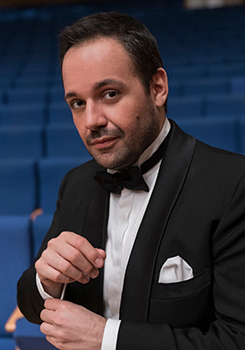 Biography
Turkish tenor Murat Karahan graduated with master's degree and received his Ph.D. in Musical Arts from the Bilkent University, Ankara, Turkey.
He also studied at Academia di Santa Cecilia, Rome, with Prof. Bruno Cagli, and took master classes with Renata Scotto, Anna Vandi and Cesare Scarton.

Since 2005, Murat Karahan is a soloist of the ensemble of Ankara State Opera and Ballet. Since 2012 he is a regular guest at the Latvian National Opera, Riga, where he performed many leading tenor parts like Edgardo in Lucia di Lammermoor and Alfredo in La Traviata, among the others.

In 2014, Mr.Karahan was chosen as the Most Successful Male Opera Artist of the Year in Donizetti Classical Music Awards by Andante Music Magazine.
Taking stage for the first time at the world famous Berlin Deutsche Oper in January 2015 with the role of 'Alfredo' in La Traviata and he took the leading roles in La Boheme, La Traviata, and Carmen productions at Bolshoi Theatre. In 2016, under the baton of Maestro Daniel Oren, he performed the leading role of Il Trovatore staged by Franco Zefirelli in Arena di Verona Festival. Through the same production, he had great success in Teatro Regio di Parma, Berlin Deutsche Oper and Macerata Opera Festival.

In 2017 Murat Karahan, who performed the leading roles of Il Trovatore, Manon Lescaut, Tosca, Turandot, Carmen, Madame Butterfly and Nabucco in such important theatres as Wiener Staatsoper, Arena di Verona, Bolshoi Theater, Munich Bayerische Staatsoper, Oper Frankfurt Opernhaus, Teatro di San Carlo, Festival de Radio France et Montpellier and Salerno Opera. Mr.Karahan performed in 2018 the leading roles at Berlin Deutsche Oper, Bolshoi Theatre, Wiener Staatsoper, Finnish National Theatre, Teatro Massimo Palermo. He performed with great success Turandot by Puccini staged by Franco Zefirelli in Arena di Verona. The performance in his work was described as an outstanding achievement by the audience and critics.He also performed Turandot for opening night at 25. Aspendos Opera and Ballet Festival.

Murat Karahan has appeared in many concerts so far with the orchestras such as Accademia Santa Cecilia Orchestra, Tchaikovsky Symphony Orchestra of Moscow, Latvian National Opera Orchestra, Liepaja Symphony Orchestra, Tiran Symphony Orchestra, Baden Philharmonic Orchestra, Presidential Symphony Orchestra of Turkey, Bilkent Symphony Orchestra, Istanbul State Symphony Orchestra, Antalya State Symphony Orchestra, Çukurova State Symphony Orchestra, Ankara, İstanbul, İzmir and Mersin State Opera and Ballet Orchestra.

He took office as the Administrative and Artistic Director General of the Directorate General of State Opera and Ballet of Turkey in January, 2018 and still working as a soloist at the same time. As a administrative and artistic director Murat Karahan, collaborates with Turkish composers produces projects that are inspired by the rich Turkish culture.

Murat Karahan, the Project Creator and Art Director of Troy Epic Opera composed by Bujor Hoinic for the Year of Troy announced by the Ministry of Culture and Tourism on the 20th anniversary of Troy's inscription on UNESCO's World Heritage List, is working on the representation of this work of art internationally. Mr. Karahan is also on the stage with his role as the Prince of Troy, Paris in this piece with over 300 artists and technical staff.

In November, 2018 Murat Karahan appeared as Calaf in Turandot and took part in the Gala Concert for the 100th anniversary of the Latvian National Opera of which he is a Guest Artist.


Repertoire
Calaf (Turandot)
Turiddu (Cavalleria Rusticana)
Alfredo (La Traviata)
Rodolfo (La Boheme)
Edgardo (Lucia di Lammermoor)
Manrico (Il Trovatore)
Des Grieux (Manon Lescaut)
Cavaradossi (Tosca)
Duca (Rigoletto)
Don Jose (Carmen)
Elvino (La Sonnambula)
Macduff (Macbeth)
Paolo Erisso (Maometto Secondo)
Ernesto (Don Pasquale)
Conte Libenskof (Il Viaggio a Reims)
Caramello (Eine Nacht in Venedig)
Behlul (Aşk-ı Memnu)
Dumuzi (Inanna)
Paris (Troy)


Print
All in group
Sergio Escobar
Vittorio Grigolo
Murat Karahan
Maxim Mironov
Gaston Rivero
Giovanni Sala