Nearest performances
Awards
2011 – Prize-winner at the «Bella voce» International Youth Vocal Competition (2nd Prize, Moscow).
2014 – Prize-winner at the Galina Vishnevskaya International Opera Singers Competition (3rd prize, Moscow).
2016 – Prize-winner at the Sobinov Memorial Festival of Music (1st prize, Saratov).
2016 – Recipient of the Special Prize at the Competizione dell'Opera International Singing Competition (Moscow).
2018 – Prize-winner at the International Nadezhda Obukhova Young Opera Singers Competition (2nd Prize, Lipetsk).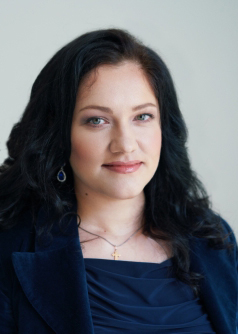 Biography
Anastasia Shchegoleva was born in Lipetsk.
Graduated from the Lipetsk Regional Igumnov Performing Arts College as a pianist and from the Maimonides State Academy as a vocalist (Natalia Burnasheva's class).

Since 2011 she has been a soloist of the Lipetsk Regional Philharmonic.
In 2013, took part in a performance of Mendelssohn's Second Symphony with the Academic Symphony Orchestra of the Moscow State Philharmonic under Yuri Simonov at the Tchaikovsky Concert Hall.

She appeared at the Bolshoi Theatre in such productions as The Maid of Orleans (concert version, conductor Tugan Sokhiev, 2014), Iolanta (Brigitta, 2015), Carmen (Mercedes, 2016).

In 2017-19 – a grant-recipient of the Atkins Program at the Mariinsky Theatre. Her repertoire at the Mariinsky includes: Voyslava (Rimski-Korsakov's Mlada), Liù (Puccini's Turandot), Princess Elisabeth (Wagner's Tannhäuser), soprano solo in Mozart's Requiem.
Also in repertoire:
Tatyana (Tchaikovsky's Eugene Onegin), Marfa (Rimski-Korsakov's The Tsars' Bride), Micaela (Bizet's Carmen), Countess Almaviva (Mozart's Le nozze di Figaro), Mimi (Puccini's La Boheme), Donna Anna (Mozart's Don Giovanni).

On the concert stage, she sung in Rossini's Ermione (concert performance with Russian National Orchestra under the button of Alberto Zedda at the Tchaikovsky Concert Hall, 2016), took part in performances of Beethoven's Cantata on the Death of Emperor Joseph II (maestro Alexander Rudin) and Brahms' Deutsches Requiem (maestro Valery Polyansky, both at the Grand Hall of the Moscow Conservatory, 2017).

Collaborated with such conductors and musicians as Alberto Zedda, Yuri Simonov, Tugan Sokhiev, Valery Polyansky, Fabio Mastrangelo, Nikolai Khodzinsky, Valery Gergiev, Mikhail Sinkevich, Pavel Smelkov, Christian Knapp.

Since September 2019, she has been a soloist with the Bolshoi Theatre Opera Company.


Repertoire
Rusalka (Dvořák's Rusalka)
Iolanta (Tchaikovsky's Iolanta)
Countess Almaviva (Mozart's Le Nozze di Figaro)
Micaela (Biset's Carmen)
Mimi (Puccini's La Bohème)
Tsaritsa Militrisa (Rimsky-Korsakov's The Tale of Tsar Saltan)
Donna Elvira (Mozart's Don Giovanni)


Print
All in group
Svetlana Lachina
Anna Shapovalova
Anastasia Shchegoleva