Nearest performances
Awards
2016 – 3rd prize at the Carlo Zampighi International opera signing competition (Galeata, Italy).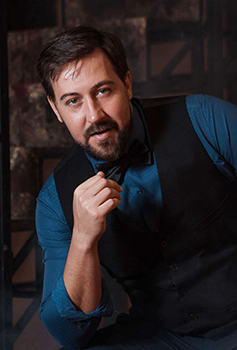 Biography
Graduated from the Urals State Conservatoire (class of V. Pisarev), he has been a guest performer at the Mikhailovsky Theatre (2009), a soloist at the Chelyabinsk State Academic Opera and Ballet Theatre (2009-2011) and the Novosibirsk Opera and Ballet Theatre (2011-2012). Has also worked with the Latvian National Opera.

Since 2012 he has been a leading soloist at the Yekaterinburg State Academic Theatre of Opera and Ballet (Ural Opera Ballet). His repertoire features over twenty roles.

In 2013 he debuted at the Mariinsky Theatre in St Petersburg as Iago in Otello and as Tomsky in The Queen of Spades.
He performs frequently at the Deutsche Oper Berlin and Deutsche Oper am Rhein, Opera Australia in Sidney, as well as at the Gärtnerplatztheater Munich, Salzburger Landestheater, Estonian National Opera (Tallinn), Slovak National Theatre (Bratislava), Teatro Municipal de Santiago (Chile), Palm Beach Opera (USA) and others.

In 2014, he made his Bolshoi Theatre debut in the part of Gryaznoi (The Tsar's Bride). Since November 2021 he has been a soloist with the Bolshoi Opera Company.
Repertoire
At the Bolshoi theatre:
Grigory Gryaznoi (Rimski-Korsakov's The Tsar's Bride)
Jochanaan (Strauss' Salome)
Seargeant (Shostakovich's Katerina Izmailova)
Scarpia (Puccini's Tosca)
Count Tomsky / Zlatogor (Tchaikovsky's The Queen of Spades)
Ibn-Hakia (Tchaikovsky's Iolanta)
Escamillo (Bizet's Carmen)

Scarpia (Puccini's Tosca) — Deutsche Oper Berlin, Deutsche Oper am Rhein, Teatro Municipal de Santiago (Chile), Gärtnerplatztheater Munich, Slovak National Theatre, Opernfestspiele St. Margarethen
Holländer (Wagner's Der fliegende Holländer) — Deutsche Oper Berlin, Estonian National Opera, Slovak National Theatre, Ural Opera
Telramund (Wagner's Lohengrin) — Mariinsky Theatre, Salzburger Landestheater, Opera Australia
Iago (Verdi's Otello) — Deutsche Oper am Rhein, Mariinsky Theatre
Rigoletto (Verdi's Rigoletto) — Palm Beach Opera, Ural Opera, Slovak National Theatre
Nabucco (Verdi's Nabucco) — Ural Opera
Enrico (Donizetti's Lucia di Lammermoor) — Ural Opera
Jochanaan (Strauss' Salome) — Deutsche Oper am Rhein, Opera Australia
Tomsky (Tchaikovsky's The Queen of Spades) — Mariinsky Theatre, Deutsche Oper am Rhein
Prince Igor (Borodin's Prince Igor) — Chelyabinsk Opera and Ballet Theatre
Vladimir Yaroslavich (Borodin's Prince Igor) — Ural Opera
Ruslan (Glinka's Ruslan and Lyudmila)— Chelyabinsk Opera and Ballet Theatre, Ural Opera
Mizgir (Rimski-Korsakov's The Snow Maiden) — Mariinsky Theatre
Grigory Gryaznoi (Rimski-Korsakov's The Tsar's Bride) — Novosibirsk Opera and Ballet Theatre, Ural Opera, Zazerkalye St Petersburg Music Theatre
Boyar Fyodor Shaklovity (Mussorgsky's Khovanshchina) — Mariinsky Theatre, Ural Opera
Varlaam (Mussorgsky's Boris Godunov, in concert version) — Concertgebouw in Amsterdam
Lanciotto Malatesta (Sergei Rachmaninov's Francesca da Rimini) — Urals State Conservatoire
Bertran (Tchaikovsky's Iolanta) — Novosibirsk Opera and Ballet Theatre, Ural Opera
Escamillo (Bizet's Carmen) — Ural Opera
Morales (Bizet's Carmen) — Novosibirsk Opera and Ballet Theatre
Priest Grigoris (Martinů's The Greek Passion) — Ural Opera
Mr. Kallenbach (Glass' Satyagraha) — Ural Opera


Print
All in group
Alexander Krasnov
Vasily Sokolov