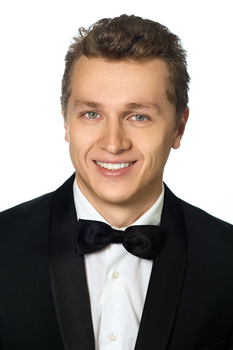 Biography
Pavel Valuzhin was born in Radoshkovichi, Belarus. In 2007 he graduated from the Molodechny Music College. In 2013 he completed his vocal studies at the St Petersburg State Rimsky-Korsakov Conservatory where he studied under Prof. Irina Bogacheva.

In 2013-16 he was a member of the Young Artists Program of the Bolshoi Theatre.
In 2016-18, he was a soloist the Bolshoi Theatre Opera Company.
In 2018, he joined the ensemble at Staatsoper Stuttgart.
Repertoire
At the Bolshoi:
Tenor (Be in the Mood for Opera)
Parpignol (La Boheme)
Almerik (Iolanta)
Rodolfo (La Boheme)
The Duke of Mantua (Rigoletto)
Kai (The Story of Kai and Gerda)
First guest (The Stone Guest)

Also in repertoire:
Alfredo (La Traviata)
Lensky (Eugene Onegin)

Tours
In 2015 he took part in a concert at Teatro alla Scala.
In the season 2017/18 he performed the role of Alfredo (La Traviata) at Theater Basel, Theater Bonn and Anthéa Théâtre of Antibes, France, and the Duke of Mantua (Rigoletto) at the Deutche Oper Berlin.
The 2018/19 season saw Valuzhin's debut at the Semperoper Dresden as Rodolfo, at the Teatro Colon in Buenos Aires and the Bregenz Festival as the Duke, and at Opera de Toulon as Lensky in Eugene Onegin.


Print
All in group
Sergio Escobar
Maxim Mironov
Gaston Rivero
Giovanni Sala
Pavel Valuzhin