Awards
2008 – the winner of the Russian Feodor Chaliapin Young Singers Competition (Moscow).
2011 – 1st prize and the Best Performance of a Mozart Aria Award at the International Bibigul Tulegenova Vocal Competition (Astana, Kazakhstan).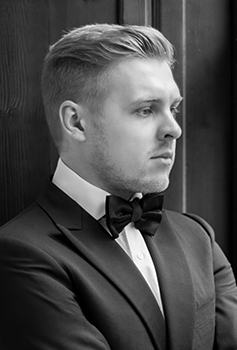 Biography
Born in the city of Bryansk. He graduated from the Moscow State University of Railway Engineering as a rail-way engineer-constructor. In 2010 he entered the Moscow Tchaikovsky Conservatory and then continued his vocal studies at the Academy of Choral Arts with Prof. Dmitry Vdovin.

In 2011-2013 he was a member of the the Young Artist Program of the Bolshoi Theatre.

In 2013 he completed professional internship program in Washington National Opera. In the same year participated in the project of the Paris Opera Competition and the Young Artist Program of the Bolshoi The Young Voices of Moscow and Paris where he performed at the concerts in the Bolshoi and the Théâtre Impérial de Compiègne. He also sang the part of tenor in the Symphony No. 2 by Mendelssohn with the Moscow Philarmonic Orchestra conducted by Yuri Simonov.

Sergei Radchenko has worked with many leading conductors including Vladimir Spivakov, Yuri Bashmet, Vladimir Fedoseev, Vassily Sinaisky, Yuri Simonov and Christopher Moulds, amongst others.
On the concert platform he took part in events such as Orfeo Music Festival (Vipiteno/Sterzing, Italy), the Irina Arkhipova Festival and numerous Gala concerts in Russia.
His concert repertoire also includes: Bach's Magnificat, Rousseau's The Village Sorcererarias, arias by Haendel, Vivaldi, Rameau, Rossini's Petite Messe solennelle, Mozart's Requiem and Coronation Mass, Haendel's Messiah, Mendelssohn's Hymn of Praise and Glazounov's Coronation Cantata, Britten's The Illuminations, Serenade, Nocturne, Krivitsky's Babi Yar, Slonimsky's King Lear, Desyatnikov's songs.

In 2017 he took part in concert performance of The Maid of Pskov by Rimsky-Korsakov at the Bolshoi Theatre (conductor Tugan Sokhiev). In May 2018, appeared as Lykov (The Tsar's Bride) at the Shanghai Grand Theatre (Bolshoi's tour in China, conductor Tugan Sokhiev).
The season also included appearances at the Vienna's Musikverein Concert Hall in Don Quixote by Massenet (conductor Tugan Sokhiev) and Oundine by Tchaikovsky (conductor Vladimir Fedoseev; both – in concert). In the same year he performed solo part in Rachmaninov's The Bells (Accademia Nazionale di Santa Cecilia in Rome, conductor Stanislav Kochanovsky) and Symphony No. 9 by Beethoven (the Big Hall of the Moscow Conservatoire, conductor Yuri Simonov).

His recent appearences include: Agrippa (The Fiery Angel) at the Teatro dell'Opera di Roma, Pinkerton (Madama Batterfly) at the Teatro dell'opera Giocosa, Savona.
Repertoire
At the Bolshoi:
The Doorkeeper (Die Zauberflöte)
Young Boy (The Tsar's Bride)
First Herald (The Snow Maiden)
The Prince of Persia (Turandot)
Abdallo (Nabucco)
A vendor of pets (Der Rosenkavalier)
Almerik (Iolanta)
Parpignol (La Boheme)
Gvidon (The Golden Cockerel)
The Master of Ceremonies (The Love for Three Oranges)
Simpleton (Boris Godunov)
Alfred (Die Fledermaus)
Vladimir Igorevich (Prince Igor)
Gaston (La Traviata)
The Count of Lerma (Don Carlo)
Matteo Borsa (Rigoletto)
Don Juan (The Stone Guest)
Mikhailo Tucha (The Maid of Pskov, in concert)
The Prince (Dvořák's Rusalka)
Foma Nazaryich (Rimsky-Korsakov's Sadko)

Discography
Songs of Paladin by Georgy Dmitriev (2009).

Print
All in group
Sergio Escobar
Maxim Mironov
Sergei Radchenko
Gaston Rivero
Giovanni Sala