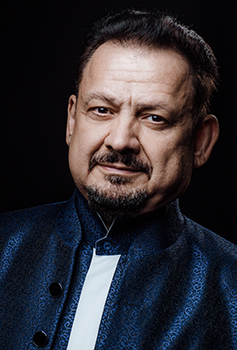 Biography
Alexander Teliga graduated from the Vocal and Theatrical Faculty of the Academy of Music in Lvov, in 1984, after having studied in a singing class under the guidance of the Professor Aleksander Wrabel.
Since 1989 he resided in Poland. In 1991-1998 he was a soloist with Wien Kammeroper, State opera in Prague, and Musical Theatre 'Roma' in Warsaw. The singer cooperated with a great number of musical theatres abroad: Teatro alla Scala di Milano, Royal Opera Copenhagen, Leipzig Opera, Dortmund Opera, Teatro La Fenice, Teatro Comunale di Bologna. He appeared on numerous tours in Dublin, Tokyo, Switzerland, Netherlands, Sweden, USA, and Canada. He took part in festivals of prestige rank, such as the Richard Wagner Festival in Bayreuth (Germany), the Opera Festival in St. Margarethen (Austria), Festival Arena di Verona (Italy), the Carcassone Opera Festival in France, the Feodor Chaliapin Festival (Kazan, Russia), The Lorelei Classic Festival (Germany), the Wexford Festival (Ireland), the International Chiemgau Festival, among others.
Repertoire
Boris Godunov, Pimen, Varlaam (Boris Godunov)
Banco (Macbeth)
Scarpia (Tosca)
Zaccaria (Nabucco)
Geronte de Ravoir (Manon Lescaut)
Dikoj (Kat'a Kabanova)
Escamillo (Carmen)
Varangian guest (Sadko)
Thibaut (The Maid of Orleans)
Scribe (May Night)
Inquisitor (Don Carlos)
Surin (The Queen of Spades)
Krusina (The Bartered Bride)
the King of Egypt, Ramfis (Aida)
Gremin, Zaretsky (Eugene Onegin)
Englishman, Le Directeur (The Gambler)
Boris Izmailov, Old Convict, Police Inspector and Officer (Lady Macbeth of Mtsensk)
Daland (Der fliegende Holländer)
Sarastro (Magic Flute)
Commendatore (Don Giovanni)
Archbishop (Krol Roger)
Waterman (Rusalka by Dvorak)
Skoluba (Moniuszko's Haunted Manor)
Dansker (Britten's Billy Budd)
Bass parts in Verdi's Requiem, Rakhmaninov's Bells, Szymanowski's Stabat Mater

Engagements in the current seasons include: Varlaam in Mussorgsky's Boris Godunov at the Monte Carlo, Skoluba in Moniuszko's Haunted Manor, Dansker Billy Budd for Polish National Opera Warsaw, Police Inspector and Officer Lady Macbeth of Mtsensk and Surin Pique Dame for Teatro San Carlo, Mestwin Legenda Baltyku at the Theater Poznan, Ramfis Aida for Opera Slaska, Boris Izmailov Lady Macbeth of Mtsensk for Finnish National Opera, Surin Pique Dame with Opernfestspiele Heidenheim.

Other past engagements include among others: Sarastro Magic Flute, Zaccaria Nabucco, Daland Der Fliegende Holländer all for Polish National Opera; Dikoy Katya Kabanova Gran Teatre del Liceu and Opera National de Lorraine; Il Marchese di Calatrava La Forza del Destino Grand Théâtre de Genève; Priest, Old Convict and Boris Izmailov Lady Macbeth of Mtsensk with Teatro Municipal de Santiago; Boris Izmailov Lady Macbeth of Mtsensk Finnish National Opera and Danish Royal Opera; Priest and Old Convict Lady Macbeth of Mtsensk, and Le Directeur in Prokofiev's The Gambler for Monte Carlo; The Varangian Sadko in Venice; Thibaut The Maiden of Orleans at Wexford Festival; Zaccaria Nabucco with St. Margarethen Opera Festival.

In 2011, he took part in the Bolshoi Theatre's production of The Golden Cockerel, singing the role of Tsar Dodon (conductor Vassily Sinaisky, director Kirill Serebrennikov). In 2012, he performed the role of Boris Timofeyevich (The Lady Macbeth of Mtsensk). In 2013 — the role of Daland (Der fliegende Holländer). In 2021 he took part in the premiere performances of Don Giovanni singing the role of Commendatore (conductor Tugan Sokhiev, director Semyon Spivak).

His artistic attainments cover numerous recordings for the radio and television made in Germany, Italy, Ireland and Poland.

The singer has recorded many CDs: The Silesian Philharmonic and its Guests (Silesian Philharmonic Orchestra of Katowice, Conductor J. Swoboda), Parade of Stars (Celebrity Symphony Orchestra, Conductor A. Rozbicki, Toronto, Canada) as well as DVDs Aida (Orchestra Stagione d'Opera Italiana, Conductor G. Croci), Nabucco (Orchestra Junge Philharmoniker Vienna, Conductor M. Lessky).

In 2003 Aleksander Teliga has completed the artistic postgraduate studies grade I at the Katowice Academy of Music and since October has been holding a post of an assistant professor there.
Print
All in group
Felix Kudryavtsev
Stanislav Shvets
Alexander Teliga
Hayk Tigranyan
Alexander Vinogradov