Awards
He won lst prize at the Galina Vishnevskaya International Competition of Opera Singers (Moscow, 2006).
He was a winner of the lst Republican Competition and holds the title Best Young Bass of Tartarstan (Kazan, 2007).
Honoured Artist of the Republic of Tatarstan (2022).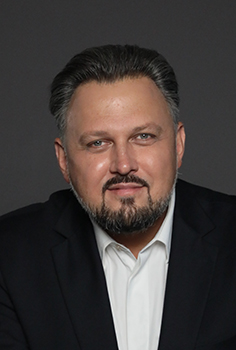 Biography
Born in Kazan.
In 1998 he completed his studies at the Kazan I. Aukhadeyev Music College Choral conducting Department (V. Zakharova class).
In 2003 he graduated from the Kazan N. Zhiganov State Conservatoire Academic Chorus conducting Department (L. Draznin class), and in 2006 — from the Conservatoire's vocal faculty (Yu. Borisenko's class).
In 2003, while still a student, he made his debut at the S. Saydashev Conservatoire Concert Hall in the title role of Donizetti's opera Don Pasquale (conductor Fuat Mansurov).
From 2004-06, he perfected his skills at the Galina Vishnevskaya Centre for Opera Singing (A. Belousov class).
Since 2005, he has been a soloist with Moscow's Helikon-Opera Company.
Past seasons highlights include a return to Opéra de Monte Carlo for Massimiliano in I Masnadieri and Chorégies d'Orange Don Basilio in Il Barbiere di Siviglia, next to his roles at the Helikon Opera in Moscow, Grand Théâtre de Genève as Boris and Warlaam in Boris Godunov, Fasolt in Das Rheingold and Hunding in Die Walküre, return to Opéra Marseille for Sparafucile in Rigoletto. House debut at New National Theatre Tokyo as Gremin in Eugene Onegin and Pimen in Boris Godunov, Chorégies d'Orange as Commendatore in Don Giovanni, Stolnik in Halka at Theater an der Wien.

Title role in Boris Godunov (Opéra Marseille, Polish National Opera Warsaw, Teatro Municipal de Santiago de Chile), Pimen in Boris Godunov (Opéra Royal de Wallonie Liège), Dodon in The Golden Cockerel (Teatro Real Madrid, La Monnaie Brussels), Sparafucile in Rigoletto, Boris Timofeevich in Lady Macbeth of Mtsensk (Teatro Municipal de Santiago de Chile), Archbishop and Thibaut in The Maid of Orleans in concert (Grand Théâtre de Genève), Thoas in Iphigenie en Tauride (Hamburgische Staatsoper), debuts at Chorégies d'Orange as Basilio in Il Barbiere, Bass Solo in Shostakovich's Symphony No 14 at Opera di Firenze with Mro Mikhail Jurowski, house debut at Theatro Municipal de São Paulo as Timur in Turandot, Boris Godunov in a Christmas Concert with the Gewandhausorchester at the Gewandhaus zu Leipzig.

In 2010, he made his Bolshoi Theatre debut in the part of Sarastro (Die Zauberfloete). In 2011 he took part in the Bolshoi Theatre's production of Ruslan and Lyudmila, singing the part of Ruslan (conductor Vladimir Jurowski, director Dmitri Tcherniakov). In the same year he sang the role of Pimen (Boris Godunov).
Repertoire
Boris, Pimen, Varlaam (Boris Godunov)
Dosifei, Ivan Khovansky (Khovanshchina)
King Rene (Iolanta)
Gremin (Eugene Onegin)
Kochubei, Orlik (Mazeppa)
Sobakin, Malyuta Skuratov (The Tsar's Bride)
The Miller (Dargomyzhsky's Rusalka)
Galitsky, Konchak (Prince Igor)
Ruslan, Farlaf, Svyatozar (Ruslan and Lyudmila)
King of Clubs (The Love for Three Oranges)
Kutuzov (War and Peace)
Andrei Degtyarenko (Fallen from the Sky — based on the motifs of Sergei Prokofiev's opera The Story of a Real Man)
Old Convict, Priest, Boris Timofeyevich (The Lady Macbeth of Mtsensk)
Shvokhnev, Gavryushka, Alexei (Shostakovich's The Gamblers)
Semyon (Big Lightening — based on the motifs of several Dmitri Shostakovich works)
Agamemnon (Iphigenie en Aulide — French version)
Sarastro (Die Zauberfloete)
Il Commendatore, Leporello (Don Giovanni)
Title Role (Don Pasquale)
Don Basilio (Il Barbiere di Siviglia)
Moise, Osiride (Moise et Pharaon — French version)
Mephistofeles (Faust)
Sparafucile, Monterone (Rigoletto)
King Philip, The Great Inquisitor (Don Carlos)
Fiesco (Simon Boccanegra)
Ramphis, King of Egypt (Aida)

And also:
Bach's Christmas Oratorio
Mozart's Requiem
Mozart's Vesperae solennes de Confessore
Verdi's Requiem
Rossini's Stabat Mater
Cherubini's Messe solennelle
Alexander Grechanninnov's Liturgy of St. John Chrysostom
Shostakovich's Symphony No. 14, Antiformalist rayok
Print
All in group
Felix Kudryavtsev
Stanislav Shvets
Hayk Tigranyan
Alexei Tikhomirov
Alexander Vinogradov