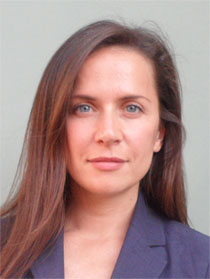 Biography
Born in Uralsk (Kazakhstan). In 1996 she graduated from the Music College (choral conducting class) and in 2001 — from the Astrakhan Conservatoire. At the same time as studying, she conducted the children's choir at one of Astrakhan cathedrals.

In 2007 she enrolled at the Sorbonne's faculty of music studies.
In 2012 she graduated from the Versailles State Institute majoring in Management in Culture and the Arts. During her studies she took part in the organization of a conference on the theme New Media, the Arts and Society (Palais de la Decouverte, Paris).

She coordinated a contemporary art project set up under the influence of the work of John Cage.
In 2012 she underwent practical training as a producer at the following international festivals: The Festival of Baroque Opera in Beaune (Burgundy) and The Chopin in Paris Festival.

In the 2012/13 season she did an internship at the producers' department and at the program management department of the Opéra National de Paris (Opéra Garnier and Opéra Bastille).

In December/January 2014 she took part in the organization of the Paris Opera Competition.

She has worked as promoter with young French theatre companies.

Since 2008 she has been a member of the International Dmitri Shostakovich Association in Paris.
Print