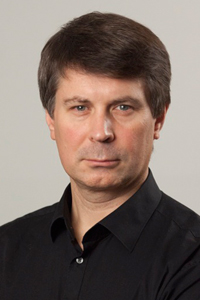 Biography
Born in 1962 in Sverdlovsk (today Ekaterinburg).

He graduated from the State Institute of the Performing Arts (GITIS) today RATI (The Russian Academy of the Performing Arts) in Moscow, he then did postgraduate studies in theatre criticism under Professor Inna Solovyova. His reviews were published in the main national newspapers and magazines.

He subsequently underwent a period of retraining and graduated from the V.S Popov Academy of Choral Art.
From 1987-92 he was a staff member, responsible for music theatre, at the USSR Union of Theatre Workers.

From 1992-93, he attended a special course as teacher of singing at the European Centre for Opera and Vocal Art (ECOV) in Brussels, under the artistic direction of Mikael Eliasen — head of the vocal department at the Curtis Institute of Music in Philadelphia.

In 1992 he was appointed artistic director of the Moscow Centre for Music and Theatre, an artistic agency that coordinates interaction between Russian and international opera companies, festivals and concert organizations.
From 1996 he worked with the great Russian singer Irina Arkhipova in the capacity of teacher and head of her Summer School, organizing her television and concert projects.
From 1995 he was teacher, and from 2000-2005 he was head of the vocal department at the Gnesin Academy of Music.
From 2001-3 he was head of the faculty of solo singing at the V.S. Popov Academy of Choral Art (from 2001 he was senior lecturer and from 2008 Professor of the Academy).
He has given master classes in many cities of Russia, as well as in the States, Mexico, Italy, Canada, Latvia, France, Poland. He was resident guest teacher at the Houston Grand Opera Young Artists Program (HGO Studio).
In 1999-2009, he was artistic director and teacher at the Moscow International School of Vocal Art which made it possible for leading opera teachers and specialists from Russia, USA, Italy, Germany and Great Britain to come to Moscow to work with young singers. In the first ten years of the present century, the most talented young Russian opera stars were alumni of this school.
He has been jury member of many prestigious singing competitions, including: the International M. Glinka Competition, The lst All-Russian Music Competition, the Gian Battista Viotti International Music Competition for Opera Singers (Italy), International Competitions in Paris and Bordeaux, the Competizione dell'Opera, the Montreal International Music Competition, the Russian Television Culture Channel Bolshaya Opera Competition.
Since 2009 he has been the artistic director of the Bolshoi Theatre of Russia Young Artists Opera Program.
Among his pupils are winners of the most prestigious competitions, and leading soloists at the world's greatest opera houses, such as the Bolshoi, La Scala, Metropolitan Opera, Royal Opera Covent Garden, Vienna State Opera, Berlin State Opera, Paris National Opéra, Madrid's Teatro Real and others.
Print