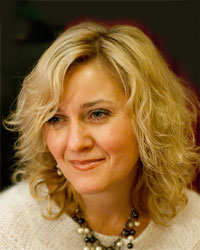 Biography
Born in Moscow.

In 1977 she was accepted into the Bolshoi Theatre children's chorus. She took part in the following, among other, productions: Tchaikovsky's The Queen of Spades, Mussorgsky's Boris Godunov, Verdi's Otello, Bizet's Carmen, Puccini's Tosca, Rimsky-Korsakov's The Snow Maiden, Massenet's Werther. She sang choral and solo parts. She appeared several times in a duet with Ivan Kozlovsky.

In 1988 she graduated from the October Revolution Musical College (today the A.G. Schnittke Institute of Music) (chorus conducting class) and, in 1994, she completed her studies at the Moscow University of Culture and the Arts.

From 1988 she worked as inspector for the Bolshoi Theatre Children's Chorus. She took part in the organization and realization of the first foreign tours of the Bolshoi's Children's Chorus to Germany, Italy, Japan, South Korea.

In 1998 she was appointed head of the Chorus office.

Since 2011 she has been head of the Bolshoi Theatre Chorus.
Print