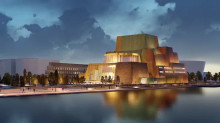 Historic Stage – New Stage – Beethoven Hall – Chamber Stage...next – Kaliningrad, new venue of Bolshoi.
Bolshoi grows bigger again – this time not only by another stage, but with another stage in a different city. Taking "bolshoi" ("big" in Russian) step across geographic coordinate we find ourselves in Kaliningrad, where our new venue will be launched in a few years.
Solemn opening ceremony was held on 25 February, and this date will become a benchmark (as well as in the history of future subsidiary of The State Tretyakov Gallery). Symbolic act of laying foundation stone took place that day at 2 pm on a construction site of Oktyabrsky Island in presence of governor of Kaliningrad Oblast Anton Alikhanov. The stone was laid by Director of the Bolshoi Theatre Vladimir Urin and Zelfira Tregulova, Director of the State Tretyakov Gallery.

Kaliningrad's cultural chronicle turns a new chapter – and what a chapter it is! Not only the subsidiary of Bolshoi but also a grand cultural cluster, which will take up the whole Oktyabrsky Island, will appear on the city map in 2023. It will be a real 'Art Island', which is under construction since August 2019.

Besides our new building, museum complex of Tretyakov Gallery and branch office of Russian State Institute of Performing Arts (RSIPA) will have presence on the 'island' as well. Educational center will be constructed in the neighborhood, across park. It will include Moscow State Academy of Choreography, Central Music School of Moscow State Conservatory and public school as well as dorms and residential complex for pedagogues and artists.

Theatre building will have two stages, the smaller one aimed for experimental productions. While big construction project is getting off the ground, and theatre repertory plans are in the midst of being formed, Kaliningrad Museum of Fine Arts exhibits "Legends of the Bolshoi Theatre". Visitors can get familiar with decoration mock-ups and costumes from the Bolshoi until 1 March 2020.

Symbolic act of laying the foundation was marked with grand gala that took place the same evening at Amber Hall in Svetlogorsk. Opera and ballet leading soloists along with chorus and orchestra of the Bolshoi Theatre performed there.

Kaliningrad is one of the four cities that President of Russia chose for construction of the largest cultural center. It will include world known cultural institutions of our country. "Staff and team of the Bolshoi Theatre will do their best to make Bolshoi subsidiary to become an authentic theatre center of Russia" – stated Vladimir Urin, Director of SABT.

Deputy Prime Minister Dmitry Chernyshenko, Minister of Culture Olga Lubimova, Natalia Volinskaya, President of "National Cultural Heritage" Fund, Founder of architectural bureau "Project Megan" Yuri Grigoryan, General Director of OAO Stroytransgaz Mihail Hryapov, Deputy Governor of Kaliningrad Oblast Ilya Barinov, Deputy Prime Minister of Kaliningrad Oblast - Vice Minister of Sports of Kaliningrad Oblast Natalia Ishchenko, Minister of Culture and Tourism of Kaliningrad Oblast Andrei Ermak, Dean of Moscow State Academy of Choreography Marina Leonova, Director of subsidiary of MSAC in Kaliningrad Artem Shpilevsky (former premier dancer of the Bolshoi Theatre Ballet Company) and other special quests all joined celebration.

NOTE:

Project owner of museum and theatre complex in Kaliningrad is an acclaimed architect Yuri Grigoryan, Founder and CEO of architectural bureau "Project Megan". According to the project, subsidiary of the Bolshoi Theater seating plan is for 950 seats (great hall) and 300 seats (small stage). Museum complex is total of 17 600 square meters will include two lecture halls for 276 seats and 98 seats respectively besides exhibition halls. Objects are perfectly fit to the parking zone, which will become favorite leisure spot for citizens and tourists without any doubt. Open venues, amphitheaters and terraces will make it possible to host various open air events (concerts, performances, city festivals).