"Ekaterina Lvovna — a woman who is talented, smart and exceptional"*
Lady Macbeth of the Mtsensk District is, perhaps, the most noted Russian opera of XX century. It is not only extremely vividly depicted the era, but also fell its first victim.

Shostakovich began his work on the opera on 14 December 1930. "When I read Lady Macbeth of the Mtsensk District by Leskov, I was impressed. When composing music based on literary groundwork, each time you create a whole new independent piece. There is no correlation with theatre where one or another performance is based on a certain novel. Every work in music gains absolutely independent meaning" .

Shostakovich, together with Alexander Preys who became libretto co-author, re-evaluates and redefines the storyline of Leskov's novella.

"I'm trying to interpret Ekaterina Lvovna as a good character who deserves empathy of the audience. This compassion cannot be that easily built: Ekaterina Lvovna does a series of unethical and immoral actions. This is where divergence with Leskov happens: Leskov portrays Ekaterina Lvovna as very cruel person who is all fussy and commits murders of completely innocent people, according to Leskov. I would like, on the contrary, to present this events in a different light: Ekaterina Lvovna — a woman who is talented, smart and exceptional; because of hard and terrible conditions that life puts her in, because of cruel greedy and petty merchant environment — her life becomes melancholic, uninteresting and sad... she has got no pleasures, no comfort. But here comes a workman Sergei... She falls in love, and finds happiness and whole new purpose in life in this love. Ekaterina Lvovna sacrifices herself fully to her love to Sergei. Nothing exists anymore for her besides this love to Sergei" .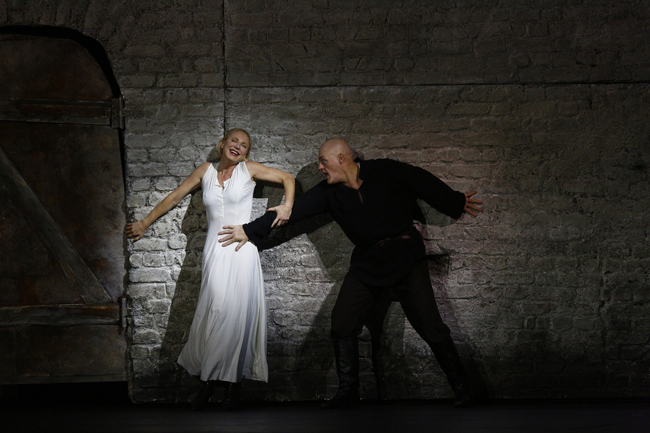 Nadja Michael as Katerina Lvovna. John Daszak as Sergei.
Photo by Damir Yusupov.
Critics often drew similarities between heroes of Shostakovich opera and
The Storm
by Ostrovsky. Nevertheless, Katerina Izmailova doesn't turn into Katerina Kabanova in Shostakovich's world. Heroine does not become 'a ray of light in the dark realm'. Rather opposite, a tragic figure of a woman, who carries death, resembles more of Salome by Strauss or Lulu by Berg.
Totally incredible is the genre of this opera-tragic-comedy! Shostakovich illustrates image that is massive in volume and has range of meanings: it feels like the story is narrated by Leskov, Ostrovsky, Dostoevsky, Saltykov-Shchedrin, Gogol and Chekhov all at the same time.
Scope of music associations is even wider.
Lady Macbeth
sums up previous era of music theatre, pays the tribute to a classical opera and steps into the future (condemned and banned, it will serve as a basis for music art in Soviet Union later on). Shostakovich skillfully creates grotesque, satirical and horrible picture referring to all imaginable genres and combining something that you'd think would be impossible to combine.
Composer openly appeals to well recognized opera scenes — for example, crowd weeping in
Boris Godunov
by Mussorgsky, or Farewell Scene from
Romeo and Juliet
in Gounod opera. He even reaches out to classical opera forms (arias of revenge, heroic and lyrical arias), to dancing genres — waltz, mazurka and even jazz. This expressionist opera about fatal life and fatal passion balances on the edge of can-can and passacaille.
Score for the first edition was finished by 17 December 1932. It was premiered on 22 January 1934 at the Leningrad Maly Operny, followed by premiere at Stanislavsky and Nemirovich-Danchenko State Musical Theatre in Moscow (under name
Katerina Izmailova
) two days later.

Success was unparalleled. Opera was performed almost two hundred times within two seasons. Shostakovich wrote himself: "Performance is going well. Audience listens attentively and rushes for their galoshes (type of rubber boot) only after curtain fall. Almost no one is coughing. In general, nice things are happening, and it flatters my author's heart" . Almost immediately Lady Macbeth was recognized internationally: it was successfully premiered in Buenos Aires, Cleveland, Copenhagen, New York, Prague, Stockholm, Philadelphia, Zurich...

It was composer's intention to make Lady Macbeth as the beginning of the whole sequence. "I want to create Soviet analogy of Der Ring des Nibelungen (English title is The Ring of the Nibelung). It will be an opera tetralogy of Lady Macbeth as a woman who personifies Das Rheingold (The Rhinegold)... This theme is leitmotif of my everyday contemplation for the next ten years" — Lady Macbeth became Shostakovich's last (completed) opera.

After being condemned for excessive naturalism, 'Meyerholdovschina' (term describing Meyerhold's style of constructivism and biomechanics in theatre), formalism, leftist deformation in the article in newspaper Pravda titled Muddle instead of Music, opera was banned and removed from repertoire.

"I went through a lot and I thought a lot during that period. And I came up with the following: I can't cut the throat to Lady Macbeth, even with all its flaws. Perhaps I'm wrong, perhaps I lack courage. But I think you have to have courage not only to destroy your things, but also to protect them. Since second option is not possible and pointless at the moment, I don't take any actions. Anyway, I think constantly and a lot about what happened. Important thing is to be honest. How long will it last? If you ever find out that I disassociated myself from Lady Macbeth, just know that I did it 100% honestly. It won't happen anytime soon though, I think..."

Opera went back onstage after thirty years (!). Premiere of the second revival was on 8 January 1863 — under name Katerina Izmailova — at the Stanislavsky and Nemirovich-Danchenko Music Theatre. Eleanora Andreeva who had a title role recalled: "Dmitry Shostakovich was so happy when he went onstage for a curtain call, — applause were unbelievable, I've never seen anything like that before" . This is how the triumphal comeback of Shostakovich's remarkable masterpiece to motherland opera stage have started.
* D. Shostakovich
There were three productions of this opera at The Bolshoi Theatre. First premiere (Lady Macbeth) took place on 26 December 1935. Performance conducted by Aleksander Melik-Pashaev and directed by Nikolai Smolich survived for a little over than month — until the beginning of February, 1936. After forty five years (premiered on 25 December 1980) it was back to repertoire as Katerina Izmailova (revival occurred because of creative will of maestro Gennady Rozhdestvensky and Boris Pokrovsky). 19 November 2004 maestro Peskó Zoltán and invited guest from Tovstonogov Bolshoi Drama Theatre (BDT), Temur Chxeidze, made another appearance of Lady Macbeth at the Bolshoi (it was there until 2012).

For 110th anniversary of composer The Bolshoi Theatre resumes the second edition again. Why? Tugan Sokhiev , music director of the Bolshoi and of the performance itself says: "Knowing Shostakovich as the author of symphonies, quartets, ballets, I can say that late Shostakovich is closer to me and more interesting, and this opera version allows to look deeper and further…Transparent development is what attracts me the most in Katerina Izmailova: from the start and up until the end we are tensed to the limit" .

Rimas Tuminas, famous theatre director artistic director of Vakhtangov Theatre, worked on the performance. This is his opera debut in Russia. Rimas Tuminas is well-known for his interpretations of Russian classics — fresh, sudden, but surprisingly precise. He can combine irony and pathos, grotesque and tragedy, his works are always hilarious and sharp, rigid and moving, and always so human. "I want to justify everyone: and Boris and Zinoviy, and even Sergei. There are no bad or evil characters. There are simply poor", — says the director.
Translated by Anna Muraveva
*D. Shostakovich
Print page