The annual Hong Kong Arts Festival has been held since 1973, and each year it expands in size and scope. Its 'norm' is to present from 130-150 shows and concerts in the course of just over a month (this year the Festival runs from 27 February to 29 March). The program includes both opera, ballet, musicals, dramatic theatre productions, concerts of classical music, as well as jazz and even circus numbers. It also embraces 100 plus activities in community locations each year to enhance engagement between artists and audiences: these include exhibitions, master-classes, educative programs for children, competitions, workshops, meeting-the-artist sessions, open rehearsals, discussions, and also thematic 'backstage' excursions which make it possible to assess the work of scenographers at close quarters.

The following are among the many artists and orchestras who/which, in different years, have appeared at the Festival: Cecilia Bartoli, José Carreras, Mikhail Barishnikov, Sylvie Guillem, Yo-Yo Ma, Jordi Savall, Nikolai Znaider, Jean-Yves Thibaudet, Maria João Pires, András Schiff, Yuri Bashmet, New York Philharmonic Orchestra, Chicago Symphony Orchestra, London's Royal Philharmonic Orchestra, Royal Concertgebouw Orchestra, L'Orchestre Nationale de France, Leipzig Gewandhaus Orchestra, New Japan Philharmonic, Freiburg Baroque Orchestra, Orchestra of the Age of the Enlightenment, Les Musiciens du Louvre, Il Giardino Armonico, Les Arts Florissants. The following Companies have presented their productions: La Scala, Mariinsky Theatre, Bavarian State Opera, Saxon State Opera, Teatro di San Carlo, Naples, LA Opera, Savonlinna Opera Festival, New York City Ballet, ABT, Le Ballet de l'Opéra de Paris, Stuttgarter Ballett, Hamburg Ballet, Les Ballets de Monte-Carlo, Pina Bausch's Tanztheater Wuppertal, Le Béjart Ballet Lausanne, Nederlands Dans Theatre, Cloud Gate Dance Theatre, Théâtre Equestre Zingaro, The Royal Shakespeare Company, London's National Theatre, Moscow Art Theatre, Taganka Theatre. The Festival also actively promotes its own creative talents and emerging artists.

This is not the Bolshoi's first visit to the Hong Kong Arts Festival — in 2002, it presented Boris Godunov and The Love of the Three Oranges in Hong Kong. Today, thirteen years later, we are presenting both our Opera Company, in the recently renovated 'golden treasury' production The Tsar's Bride, as well as our Ballet Company — in two 20th century masterpieces (one of the events winding up the Festival program): Balanchine's neoclassical Jewels and Alexei Ratmansky's rediscovered and revised version of the Soviet era blockbuster The Flames of Paris.

Among the other 2015 Hong Kong Arts Festival participants are: Dutch National Ballet, London's Royal Court and Gate Theatres, The Los Angeles Philharmonic, the Sachsische Staatskapelle Dresden, Fabio Biondi and his Europa Galante Orchestra, William Christie et Les Arts Florissants Orchestra, Joyce DiDonato, Leonidas Kavakos and many, many other outstanding artists and companies.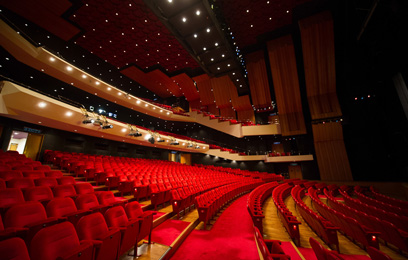 The Hong Kong Cultural Center's Grand Theatre
in which the Bolshoi Theatre Opera and Ballet Company will be performing.


TOUR PROGRAM
THE TSAR's BRIDE
20, 21, 22 March. 7:30 pm

Conductor — Gennady Rozhdestvensky
Sobakin — Vladimir Matorin (20, 22), Alexander Naumenko (21)
Marfa — Olga Kulchinskaya (20, 22), Venera Gimadieva (21)
Gryaznoy — Alexander Kasyanov (20, 22), Elchin Azizov (21)
Malyuta Skuratov — Oleg Tsybulko (20, 22), Nikolai Kazansky (21)
Lykov — Bogdan Volkov (20, 22), Roman Shulakov (21)
Lyubasha — Agunda Kulaeva (20, 22), Svetlana Shilova (21)
Bomely — Marat Gali (20, 22), Stanislav Mostovoy (21)
Saburova — Irina Rubtsova (20, 22), Irina Udaalova (21)
Dunyasha — Elena Novak (20, 22), Evgenia Segenyuk (21)
Petrovna — Anna Matsei (20, 22), Iraida Chernova (21)


THE FALMES of PARIS
24, 25, 26 March. 7:30 pm

Jeanne — Ekaterina Krysanova (24, 26), Ekaterina Shipulina (25)
Jerome — Vyacheslav Lopatin (24), Denis Savin (25, 26)
Philippe — Vladislav Lantratov (24), Mihkail Lobukhin (25), Vyacheslav Lopatin (26)
Adeline — Anastasia Stashkevich (24, 26), Nina Kaptsova (25)
Mireille de Poitiers — Nina Kaptsova (24), Daria Khokhlova (25), Kristina Kretova (26)
Antoine Mistral — Artem Ovcharenko (24, 26), Artemy Belyakov (25)
Conductor — Pavel Sorokin
JEWELS
28
March (7:30 pm), 29 March (2:30 pm, 7:30 pm)

I.

EMERALDS

Two leading couples
Nina Kaptsova, Kristina Kretova (debut), Vladislav Lantratov, Alexander Volchkov (28; 29, 7:30 pm)
Anastasia Stashkevich, Yanina Parienko, Klim Efimov (debut), Yuri Baranov (29, 2:30 pm)
Pas de Trois
Yanina Parienko, Ana Turazashvili, Igor Tsvirko (28; 29, 7:30 pm)
Yulia Lunkina, Daria Khokhlova, Denis Medvedev (29, 2:30 pm)


II.
RUBIES

The leading couple
Anastasia Stashkevich, Vyacheslav Lopatin (28; 29, 7:30 pm)
Kristina Kretova, Igor Tsvirko/debut/ (29, 2:30 pm)

Soloist
Ekaterina Shipulina (28, 29, 7:30 pm)
Olga Marchenkova (29, 2:30 pm)


III.
DIAMONDS

The leading couple
Ekaterina Krysanova, Semyon Chudin (28, 29, 7:30 pm)
Nina Kaptsova (debut), Artem Ovcharenko (29, 2:30 pm)

Conductor — Pavel Sorokin