You can't argue with Rossini!
Il Barbiere di Siviglia is so musically convincing that charms everyone who gets a chance to listen to it. Verdi considered it the most beautiful opera-buffa in existence, Beethoven tried to persuade the author to 'make lots of Barbers'!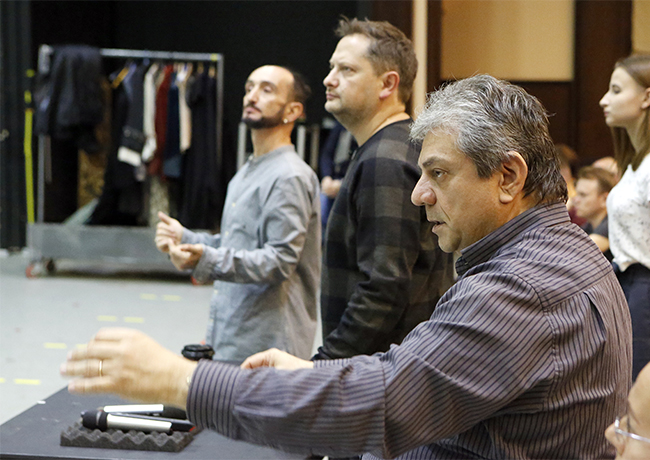 Alberts Alberts (choreographer), Evgеny Pisarev (stage director),
Pier Giorgio Morandi (music director).
'You can't argue with Rossini', says the director Evgеny Pisarev.

This is a clear and fantasy story, so we thought it was strange to put it in a serious and thorough manner. Zinovy Margolin (a set designer of the production - ed.) and I decided to make it spiffy and joyful, and to do so we adopted a dramatic tool of 'a play within a play'. The action takes place in two dimensions. The first one is 'the stage', the Beaumarchais-style theatre, the choreographic area. It's literally a lofty place. Below is the backstage, designed as contemporary theatre. While the artists are in this domestic, 'day-to-day' space, they behave like ordinary people. Someone is wearing a tracksuit; someone is putting on makeup.... However, coming onto the stage, they change the way they move and communicate with each other. Everything that happens on 'the stage', drama or comedy, is a theater, a sort of buffoonery. This is a comedy dell'arte on the opera stage, highlighted by the sparkling theatrics of the costumes (costume design by Olga Shaishmelashvili - ed.).
The only character who exists organically in both dimensions and hardly ever changes is Figaro. A star, an idol, an all-time audience's favourite, he is the only one to remain the same both on stage and off it. However, he's yet to become a hero for all time. This will happen to him in
Le nozze di Figaro
, where he will become a mature husband and the main character, practically Beaumarchais' alter ego. Meanwhile, he is just one of the characters, though a witty and smart guy. In our performance the backbone character is Bartolo, as the whole intrigue is twisted around him. Furthermore, he is also the most comic character. He strives to appear as an extremely important, significant person, endlessly repeating 'I'm a doctor, I'm an important person'. In fact, this man is a small, insignificant and unloved person. In the end, his world ruins, and that is his personal drama, a quite soul-stirring one.
The part of Rosina will be performed by soprano (though in the original version she was a mezzo), we wanted to make her character delicate and sophisticated, like a tender young rose that has just started to grow its thorns. We have even created a special decoration – a birdcage that one character is eagerly protecting while the other intends to rip it out and steal. For Rosina it is for the first time in her life that she experiences everything that happens in the opera, so she's putting herself at risk every time she makes decisions. Whereas Count Almaviva seems to be preoccupied with process of chasing. Victory is the most important thing for him. That's why I say to artist performing this part: 'Don't forget that you're interested as long as she stays on the balcony out of your reach. In three years you lose interest and then you have to find another Rosina, another one to chase and conquer'.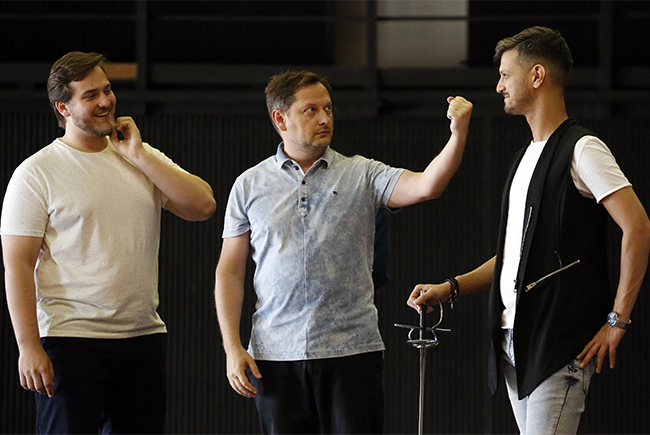 Andrzej Filończyk (Figaro), Evgеny Pisarev, Bogdan Mihai (Count Almaviva).
Photo from rehearsals by Damir Yusypov.
Print page