Will We Make Our Garden Grow?
Bernstein's musical comedy (1956) is a brilliant stage version of Voltaire's novella of the same name (Candide: or, The Optimist). Anonymously published in 1759, it was the most caustic and comic satire of the social ills of its day. So, the book was widely banned to the public. But even after two hundred (or two hundred fifty) years, Candide's reflections remain as pertinent now as ever.

The adventures of Candide, the Baron Thunder-ten-Tronck's illegitimate nephew, begin after he got kicked out of the castle – the best of all possible – for his fond feelings for the Baron's daughter Cunegonde. A flow of misfortunes and disasters befalls our innocent hero (the name Candide literally means "innocent", "pure"), his ideas of "the best of all possible worlds" are being severely tested. In the New World he is taken prisoner by bizarre inhabitants, and then he comes upon the Paraguayan encampment of Jesuits, and finally emerges in the mythical country Eldorado, where he becomes fantastically rich, but loses almost all his fortune on the way back to Venice. At the end, sophisticated Candide and Cunegonde reconcile themselves with the fate and proclaim the new idea ("Make Our Garden Grow"): "We're neither pure nor wise nor good, we'll do the best we know. We'll build our house, and chop our wood, and make our garden grow".

Bernstein, echoing Voltaire, gives this comic performance very beautiful music, toying with a variety of genres. His Candide is at the same time an opera, an operetta and a Broadway musical show. The composer himself said, "Let others decide how they would like to call it. It might seem that this is some kind of a new form. Our theater seems to have no analogues to it, so the time will tell."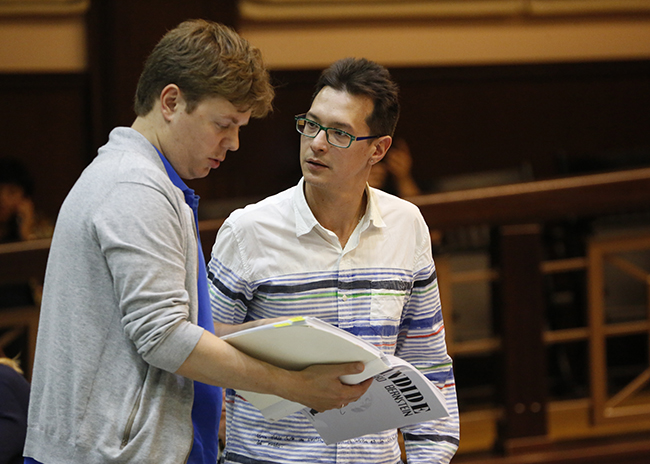 Artem Grishaev (Concert Master) and Alexei Frandetti (Director). Photo by Damir Yusupov.
Print page