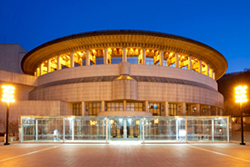 Bolshoi Ballet Chinese tour is followed by South-Korean – we will perform
Swan Lake
at the Opera house of the Seoul Arts Center. The Bolshoi Theatre Orchestra also takes part in this tour. Antoine Mistral: Jacopo Tissi (22, 24), David Motta Soares (23, 25)
Conductor: Pavel Klinichev
(*In March 2006, the Bolshoi Ballet, Opera and Orchestra soloists performed at two concerts dedicated to the opening of the year of Russia in China. These concerts were held in the 10,000-seat Great Hall of the People in in Beijing. In 2015 followed a full-scale tour of the Bolshoi
27 May (for the particular audience)
Odette-Odile: Olga Smirnova
Prince Siegfried: Semyon Chudin
The Evil Genius: Igor Tsvirko
The Fool: Andrei Koshkin
Friends to the Prince: Ana Turazashvili, Antonina Chapkina
28 May
Odette-Odile: Yulia Stepanova
Prince Siegfried: Artem Ovcharenko
The Evil Genius: Mikhail Kryuchkov
The Fool: Alexei Putintsev (
debut
)
Friends to the Prince: Margarita Shrainer, Xenia Zhiganshina
29 May
Odette-Odile: Alyona Kovalyova
Prince Siegfried: Jacopo Tissi
The Evil Genius: David Motta Soares
The Fool: Andrei Koshkin
Friends to the Prince: Ana Turazashvili, Antonina Chapkina
In 2010, Russia and South Korea host large-scale art festival dedicated to the 20-th anniversary of the establishment of diplomatic relations between two countries (the opening ceremony took place at the Bolshoi's New Stage). A significant event of this fest was a cross tour of the leading artists of the Bolshoi Ballet and the Korean National Ballet (KNB): the main roles in Korean production of
Raymonda
were danced by Bolshoi's artists, while Korean dancers participated in the Bolshoi's
Romeo and Juliet
(Y.Grigorovich version).
Yuri Grigorovich has been cooperating with the KNB for a long time: his ballets
Nutcracker
by P. Tchaikovsky,
Spartacus
by A. Khachaturian,
Romeo and Juliet
by S. Prokofiev, as well as his productions of
Swan Lake
by P. Tchaikovsky,
Raymonda
by A. Glazunov and
La Bayadere
by L. Minkus are present in the repertoire of the leading South Korean troupe.
The KNB and the Bolshoi Ballet also share other creative cooperation. Marina Kondratieva, a leading master-repetiteur of the Bolshoi Ballet, has repeatedly renewed the ballet productions for this company. The then Bolshoi soloists Nina Kaptsova, Dmitry Gudanov, Yan Godovsky and Korean dancer of the Bolshoi Joo Yun Bae performed in the KNB productions.
The previous tour of the Bolshoi's Ballet and Orchestra were held in South Korea in 2005, and included performances of ballets
Giselle
and
Spartacus
.