Manon Lescaut – for the first time
Right from its first night - at Turin's Teatro Regio, on lst February 1893,
Manon Lescaut
won the hearts of its audiences. The première was a triumph for the composer: according to contemporary accounts, "all of Italy raved" about the opera.
It was also in 1893, in St. Petersburg, that Russia made
Manon
's acquaintance. And two years later it was produced by Moscow Private Opera Company, at the Shelaputin Theatre. According to critics, the Company gave a well-integrated and harmonious performance which is hardly surprising – for the conductor, Alessandro Pomè, and the singer of the title role, Cesira Ferrari, had taken part in the Turin première. The fact that the music publisher, Pyotr Jurgenson, issued a piano score in the Russian language immediately after the Moscow première, is an indication of the opera's popularity. But, surprisingly enough, in the future
Manon Lescaut
was to be a rare guest at Russian opera houses.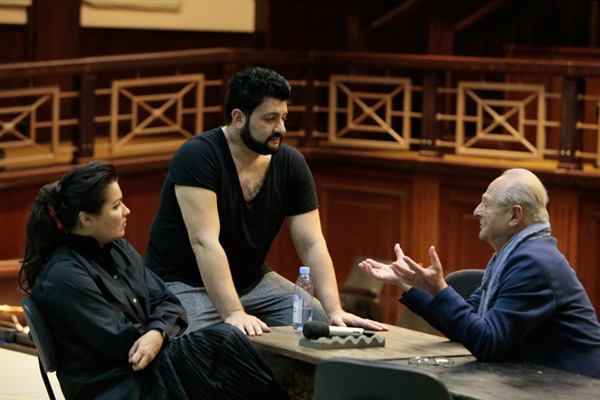 Anna Netrebko, Yusif Eyvazov, Adolf Shapiro. Photo by Damir Yusupov.
Today, remember, the Bolshoi Theatre is producing this opera for the very first time (! )
The Bolshoi's Manon Lescaut is produced by Adolf Shapiro, the eminent theatre director. This will be Shapiro's third work in opera. Manon was proceeded by his two successful productions at Moscow's K.S. Stanislavsky and Vl. I Nemirovich-Danchenko's Musical Theatre - Donizetti's
Lucia di Lammermoor
and Lehár's
The Merry Widow
.
Adolf Shapiro on his Manon:
"From a stylistic point of view, the opera's four acts are totally different. As the opera progresses, the character of the music undergoes radical change. Before reaching the finale, where it is truly tragic, it goes through all the various gradations of drama.
And it is this which has defined our conception of the opera: we decided each of the four acts should be given a different scenographic treatment. Where the opera takes place is absolutely irrelevant, and this goes for Puccini too. For instance, according to the libretto, Act 1 takes place in Amiens, the music though isItalian! What is important here is the overall inner perception. The atmosphere. The image which comes into one's mind when des Grieux sees Manon for the first time and repeats after her: "Manon Lescaut, mi chiamo", the moment of their fatal meeting. Also of key importance are Lescaut and Geronte, for it is they who advance the action. These two characters are gambler-antagonists: a gambler-poet and a gambler-mafiosi. The whole of Act 1 is constructed round the latter's provocative actions.
But as the action advances, all secondary personages are shifted to one side by the composer and the finale is devoted to the two main protagonists who find themselves in a totally different spatial dimension: Puccini's fourth act is totally innovatory".
Print page