The Taming of the Shrew in Monaco
19.12.2014
"The legendary Ballet of the Bolshoi Theatre interprets in December 'The Taming of the Shrew', choreographed by Jean-Christophe Maillot.Applauded since its première in July 2014 in Moscow, this creation represents an unprecedented event: it's the first time that the Bolshoi has invited a foreign choreographer to create a full-night's narrative ballet for its dancers. Over four months, Jean-Christophe Maillot has passed on his sense of narration and style to these great Russian artists, as famous for their acting as their dancing. For this large-scale narrative experience, a powerful work was required. Jean-Christophe Maillot therefore chose The Taming of the Shrew, the famous verbal sparring by William Shakespeare, which sets the flamboyant Petruchio against the cantankerous Katharina", — we cite the site of Les Ballets de Monte Carlo.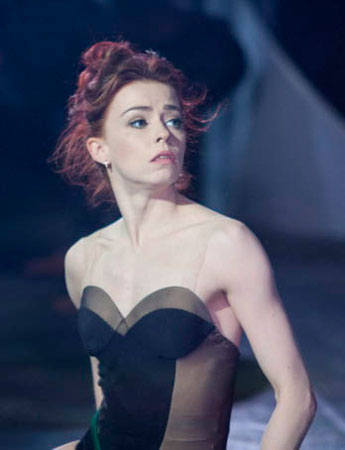 Ekaterina Krysanova as Katharina.
Photo by Elena Fetisova.
CAST:

Katharina — Ekaterina Krysanova (December 19 and 20), Kristina Kretova (December 21)
Petruchio — Vladislav Lantratov (December 19 and 20), Denis Savin (December 21)
Bianca — Olga Smirnova (December 19 and 20), Anastasia Stashkevich (December 21)
Lucentio — Semyon Chudin (December 19 and 20), Artem Ovcharenko (December 21)
Hortensio — Igir Tsvirko
Gremio — Vyacheslav Lopatin
The Widow — Anna Balukova
Baptista — Artemy Belyakov
The Housekeeper — Anna Tikhomirova (December 19 and 20), Yanina Parienko (December 21)
Grumio — Georgy Gusev
Maidservants — Daria Bochkova, Anastasia Gubanova, Daria Khokhlova,
Diana Kosyreva, Ana Turazashvili, Yanina Parienko (December 19 and 20), Elvina Ibraimova (December 21)
Servants — Batyr Annadurdyev, Dmitry Dorokhov, Sergei Kuzmin, Alexei Matrakhov, Maxim Surov, Dmitri Zhuk
Print

| About Us | Repertoire | Artists & Staff | Your Visit | Museum | Shop | Partners |
| --- | --- | --- | --- | --- | --- | --- |
| | | | | | | |