Bolshoi off to the USA again on tour
12.07.2014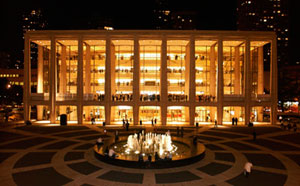 Avery Fisher Hall.
This time the Company is to appear at the Lincoln Center Festival, New York. Also taking part in the Festival, which will run from 7 July to 16 August, are: Houston Grand Opera, the Sydney Theatre Company, the Kabuki Heisei Nakamura-za Company, and the Rosas Company, led by the famous contemporary dance soloist and choreographer Anna Teresa De Keersmaeker.
The Festival originated in 1996 fired by the ambitious idea of showing New Yorkers something they would never be able to see anywhere else. Hence its unusually broad span in terms of both geography and genre: ranging all the way from concerts of academic music to circus performances, from classical ballet to performance and video art. In addition, the Festival regularly introduces its public to forms of theatre which are somewhat unusual to them — for instance, Vietnam's Water Puppet Theatre, Ta'ziyeh, an indigenous form of music theatre developed in Persia and the Japanese Kabuki theatre.
Over the years of its existence the Festival has played host to the world's leading music and theatre companies: among them, London's Royal Opera, La Scala, Opéra national de Paris, Opéra de Lyon, the Barcelona
La Fura dels Baus
Company, Oper Frankfurt, Dutch National Opera, Théâtre de la Monnaie, Los Angeles Opera, New National Theatre Tokyo; San Francisco Ballet, Ballet National de Marseille, Ballet Nacional de Espana, Stuttgart Ballet, Hamburg Ballet, Ballet royal de Flandres, Nederlands Dans Theater, Birmingham Royal Ballet, Merce Cunningham Dance Company, Alvin Ailey American Dance Theatre, Batsheva Dance Company; Royal Shakespeare Company, Piccolo Teatro di Milano, La Comédie-Française, Le Théâtre du Soleil, Paris, National Theatre of Scotland, Sydney Theatre Company.
Russian theatres too have appeared more than once at the Festival: Mariinsky Theatre, St. Peterburg's Maly Drama Theatre, the Vakhtangov Theatre, the Pyotr Fomenko Studio Theatre. The Bolshoi Ballet Company took part in the Festival in 2000 — presenting
Giselle
, and a programme consisting of highlight excerpts from the ballets
Spartacus
,
Don Quixote, La Bayadère.
This year, both the Bolshoi Ballet and Opera Companies will be appearing at the Festival.
The Bolshoi Theatre New York season has been described in the American press as the pivot of the Festival program.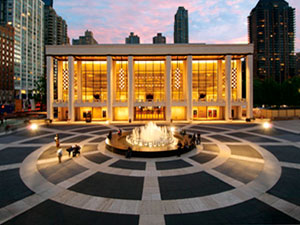 David H. Koch Theatre.

Program for the Bolshoi season at the Lincoln Center Festival:
12, 13 July
Avery Fisher Hall
The Tsar's Bride
(Concert performance)
Conductor — Gennadi Rozhdestvensky
Sobakin — Vladimir Matorin (12 July), Alexander Naumenko (13 July)
Marfa — Olga Kulchinskaya (12 July), Ulyana Aleksyuk (13 July)
Gryaznoy — Elchin Azizov (12 July), Alexander Kasyanov (13 July)
Malyuta — Oleg Tsybulko (12 July), Nikolai Kazansky (13 July)
Lykov — Bogdan Volkov (12 July), Roman Shulakov (13 July)
Bomely — Marat Gali (12 July), Stanislav Mostovoy (13 July)
Domna Saburova — Irina Rubtsova (12 July), Irina Udalova (13 July)
Dunyasha — Elena Novak (12 July), Alexandra Chukhina (13 July)
Petrovna — Anna Matsey
15-20 July
David H. Koch Theatre
Swan Lake
Odette-Odile — Svetlana Zakharova (15,17 July), Anna Nikulina (16,19 July, 14.00),
Ekaterina Krysanova
(19 July, 20.00), Olga Smirnova (18,20 July)
Prince Siegfried — David Hallberg (15,17,19 July, 20.00), Artem Ovcharenko (16,19 July, 14.00), Semyon Chudin (18, 20 July)
Evil Genius — Vladislav Lantratov (15,17 July, 20.00), Artemy Belyakov (18, 19 (20.00), 20 July), Denis Rodkin (16,19 July, 14.00)
The Fool — Igor Tsvirko (15,17,19 July, 20.00), Denis Medvedev (16, 19 July, 14.00), Alexander Smolyaninov (18, 20 July)
Friends to Prince — Kristina Kretova, Maria Vinogradova (15,17,19 July, 14.00; 20 July), Daria Khokhlova, Chinara Alizade (16,18,19 July, 20.00)
22-23 July
David H. Koch Theatre
Don Quixote
Kitri — Maria Alexandrova (22 July), Ekaterina Krysanova (23 July, 14.00),
Kristina Kretova
(23 July, 20.00)
Basil — Vladislav Lantratov (22 July), Semyon Chudin (22 July, 14.00), Mikhail Lobukhin (23 July, 20.00)
Don Quixote — Alexei Loparevich
Sancho Pansa — Alexander Petukhov (22,23 July, 20.00), Roman Simachev (23 July, 14.00)
Street Dancer — Anna Tikhomirova (22,23 July, 20.00), Maria Vinogradova (23 July, 14.00)
The Mistress of the Dryads — Olga Smirnova (22,
23 July, 14.00
), Anna Nikulina (23 July, 20.00)
25-27 July
David H. Koch Theatre
Spartacus
Title Role — Mikhail Lobukhin (25, 27 July), Denis Rodkin (26 July)
Crasus — Alexander Volchkov (25, 27 July), Vladislav Lantratov (26 July)
Phrygia — Anna Nikulina (25, 27 July), Maria Vinogradova (26 July)
Aegina — Svetlana Zakharova (25, 27 July), Ekaterina Krysanova (26 July)
Print

| About Us | Repertoire | Artists & Staff | Your Visit | Museum | Shop | Partners |
| --- | --- | --- | --- | --- | --- | --- |
| | | | | | | |