"It's an historic event"
24.06.2013
"The rehearsal period was one of the happiest in my life. We rehearsed the opera as if it had only just been written and brought in to the Theatre".
Dmitri Tcherniakov on Eugene Onegin, La Scala Press Conference, 2009

The Bolshoi Opera is to go on tour to Israel for the first time. The performances are to take place at the Opera House of Tel Aviv's Performing Arts Center, the focal point of the Golda Meir Center, and the venue for all the main cultural events in the Israeli capital. The Center is home to the Israeli Opera, the country's leading opera company which will act as host to the Bolshoi Theatre.

The Bolshoi will be presenting one of its landmark productions in recent years — Dmitri Tcherniakov's Eugene Onegin (2006), which already has a rich performance history, namely: 2008 — Riga Opera Festival, venue Latvian National Opera; Paris Opéra opening production of the season; 2009 — Tokyo, venue Bunka Kaikan Concert Hall; La Scala closing production of the season; Ljubljana Festival — closing production, venue Cankar Hall (Palace of Congresses and Cultural Center); 2010 — Peking, venue Opera House of the National Center for the Performing Arts; London, venue The Royal Opera House; Madrid, venue Teatro Real; 2011 — Athens Festival, venue the ancient theatre of the Herod Atticus Odeon.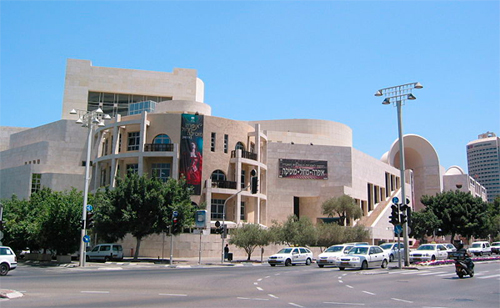 The Israeli Opera.

The Israeli Opera Company regards the Bolshoi's visit as one of the most significant events of the 2012-13 theatre season and even not only of this very season:


Our Dear Friends of the Bolshoi,
We are honored and thrilled to host the "Bolshoi" Theatre and orchestra here at the Israeli Opera in Tel — Aviv.
For the citizens of Israel It's an historic event. One that we've been waiting and hoping for a long time. And one we will cherish for years to come.
My great wish is that this event will be the start of a wonderful friendship and that we will see you more in the future.
We look forward with great pleasure and anticipation for your arrival and performances.

With Much love,
Hanna Munitz,
General Director
Israeli Opera


Print

| About Us | Repertoire | Artists & Staff | Your Visit | Museum | Shop | Partners |
| --- | --- | --- | --- | --- | --- | --- |
| | | | | | | |