Tosca as a tragedy
21.04.2021
One of the most favourite operas in the world is returning to the Bolshoi Theatre after almost a seven-year break. World renowned conductor Daniele Callegari is working on the musical part of the production. The maestro is sought-after by the largest theatres across the globe, amongst which are the Metropolitan Opera, La Scala, the Paris Opera, the Gran Teatre del Liceu in Barcelona, the Berlin State Opera, the Bavarian State Opera, the Vienna State Opera and many more. The conductor has previously collaborated with the Bolshoi Theatre: in 2010, he participated in the Bolshoi Orchestra concert at the Tchaikovsky Concert Hall.

Tosca is one of the conductor's favourite operas: "Tosca has been one of my principal debuts at the beginning of my career, that's why I love this superb score so much. I did Tosca many times. Of course every time is different, but I'm always excited at the idea to start a new production. Especially with Stefano Poda who is a real genius. My last production with him was an amazing Andrea Chénier in Seoul".

For the famous director Stefano Poda, it is his first project at the Bolshoi Theatre. Being an adherent to authors' theatre, he works not only as a director but also a set, costume and lighting designer and choreographer, creating an aesthetically and conceptually complete performance every time. He has realised over a hundred productions during his career. Amongst his latest works: Nabucco at the Teatro Colón in Buenos Aires (2020), Ariane et Barbe-bleue at the Théâtre du Capitole de Toulouse (2019, "The best opera production of the year" according to the Association of French Theatre Critics), Les Contes d' Hoffmann at the Lausanne Opera (2019), Roméo et Juliette at the National Centre for the Performing Arts in Beijing (2018).



Stefano Poda and Daniele Callegari. Photo by Damir Yusupov
On the eve of the premiere, Stefano Poda told us about the special features of his approach to the opera, about the historic context of Tosca and his sources of inspiration.
- This isn't the first time you are staging Tosca. Has your view of it changed since then?
- No, it hasn't, it just became more complete and mature. With age, with life experience comes clarity and mindfulness. That's why it's a great joy for any artist to return to a title he's already staged. And to rediscover it every time.
- What makes Rome so important as a location?
- For me, the image of Rome is inseparable from the concept of vanitas, a popular motif in European paintings, where the most delicate flower is depicted next to a skeleton or another symbol of death. No other place but Rome can simultaneously encapsulate the magnificence and insignificance of the human. Both religiously and spiritually. In my vision, Rome is not a historical background or a real city but mostly an abstract idea. I see my mission in removing the rigid structure and allowing the audience to work on the discovery of the story and its cultural context themselves. In my story ... the irony of fate led me to Moscow to reinvent
Tosca
. Moscow, third Rome.
- Do you believe it is possible in an opera production?
- Music holds absolute power over people's thoughts. It is freedom. Music talks about everything without naming anything. And everyone understands it, whereas words always give rise to misunderstandings. Music wakes something deep inside us, and you can use it to express and achieve everything you want. For me, opera is a precious vessel for tragedy in its original sense: ancient Greek tragedy giving you a way to connect with the myth, not the story, to rediscover yourself and to reflect on your inner world. I think it would be a true tautology to emphasise the relevance of feelings and events contained in
Tosca
or to transport the story into the time of the Second World War or our time; I am not interested in such exercises. And I am similarly not interested in historical reconstructions. It is important to remember that in an opera we deal with singing and not text. It is singing that reveals a different dimension and carries us away from the specifics and realities we are used to into a parallel world that is far more real than ours.
- What is the most important thing about staging this opera?
- To rediscover it. We've all seen it, we love it, we know all the arias by heart. We have got used to it and have forgotten not only its dramatic poignancy but also its dramaturgical complexity.
Tosca
is a unique score, an incredible musical outburst, a herald of amazing dramaturgical discoveries of the early 1900s.
Tosca
unfortunately, become too successful. Its success was its curse. It was composed too perfectly. It is as ideal as a good watch: precise, punctual, with an articulate libretto; it was created by geniuses.
The density of events in an opera is extraordinary: everything happens in a day – one day becomes the whole life. It does not have any passing characters or even words, and every moment something amazing and new happens. From beginning till end, the opera keeps us in suspense. This opera is constructed as a thriller. However, we should not forget it was the cinema which has learnt Puccini's lessons and not the other way round.
And it affects any audience – not only Italians. I think it would move even the Martians! Why?
Tosca
tells the story of universal human characters. Scarpia, Cavaradossi, Sacristan - these are great, universal human types, different ways of thinking, of perceiving the world. And we can meet them in everyday life, too. Or recognize ourselves in one of them.
For me, it is important to show the two worlds on one stage. The old pre-Napoleonic world of the queen Maria Carolina of the Habsburgs is the world of baroque art and Enlightenment, but at the same time, it is rigid and not ready to change. The revolution, on the other hand, is a movement towards modernity. Some contemporary people may relate to this juxtaposition and compare it to the differences between the world before and after the pandemic. The significant thing is that the old world is completely different.
- What about the confrontation between artists and authorities? Scarpia represents power, whereas Tosca and Cavaradossi are of the artistic circles…
- They belong to a different, new world. Yes, they are artists, and that is what gives them inner freedom. Let us be honest, Tosca is not interested in politics. But she anticipates what Cavaradossi already sees ahead. And this new world fascinates her very much.
It is important to find and show differences between Tosca and Scarpia as these two have a lot in common and understand each other well. They both are of humble parentage and have reached social heights due to their respective talents; so, they can understand one another without many words. They both attract and repel each other. Tosca and Scarpia have much more in common than Tosca and Cavaradossi. Cavaradossi is a man of the future, in a sense he can be called the apostle of this new world.
- What about the particular realities of the historic era?
- They are important, and you should understand them, but they should not play the main role. Opera is not like cinema – the tragedy should be symbolic. It is better to awaken your audience's curiosity rather than explain everything in detail. Our mission is to charm and fascinate – encourage them to come home and read up on the story, even if only on Wikipedia! "Who is this Queen of Naples?" - "That's Marie Antoinette's sister!" No one thinks about it, and you might agree that it adds poignancy to the whole atmosphere of the opera.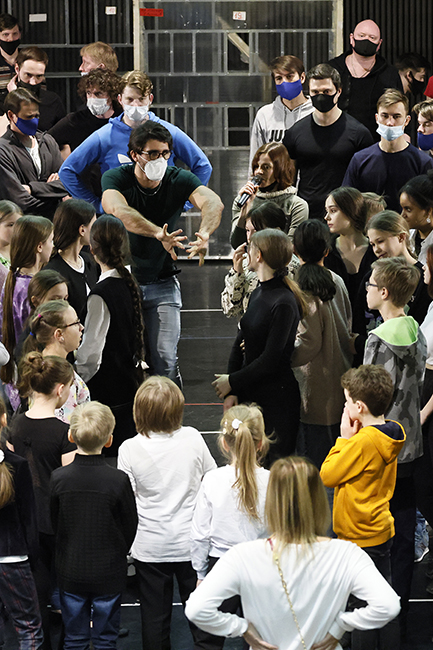 At the rehearsal. Photo by Damir Yusupov
- You rehearse the opera the way people shoot films — scene by scene, not in the chronological order.
- One of my tasks is to reveal the connection between the music and the lyrics. Look, for example, at how Puccini used leitmotifs and how he concealed them, making them less obvious. He found a defining leitmotif for every character, but it is important how he repeated them later in the opera. My task is to make them visible – in part through movements. So, we first rehearse Tosca and Cavaradossi's duet from the first act and then, right after that, their duet from the third act. We do not work at the second act separating them but pay more attention to the parallelism in music and on stage.
Moreover, the main focus in my work is to create emotions; only sincere emotional interactions work on stage. If the emotion is born through acting, the audience will feel it. I believe in its power and sincerity – just like you have in a liturgy. To create it, you need a particular process. We first work at the appearance, create the geometry of a mise-en-scene. After the physical side of the performance has been structured and rehearsed, we start working at the emotional dimension to see the natural birth of the feeling. We try out different approaches, check their effectiveness and intensify when necessary. And then I ask them to forget everything. When the feelings are all experienced and adopted, and enter the blood flow, I ask the artists to live the lives of their characters. At that stage, we start rehearsing all scenes in the correct order without interruptions. Otherwise, Tosca will not appear at the end of the opera in the right state. Emotional truth is very important to me.
- Was Tosca created in accordance with the 19th century templates? Does it preserve the number structure?
- No, it has an open musical structure. Despite that, it is important to understand that it does not follow the Wagnerian model – it is a score from the 20th century. Every aria in
Tosca
has its dramatic meaning, it unveils hidden sides of the character, develops and glorifies it both musically and dramatically. Everything is connected.
Why is 'Vissi d'arte' written like this and take this specific place in the score? Look at Tosca's conversation with Scarpia: he plays with her, winning in a game of chess. Gradually, one piece after another, she loses everything starting with her dignity; it seems Scarpia has won. Here comes the moment when she has nothing left: her fury, her status as the prima, the queen as her patron – all the pieces have been played. The only weapon left is her sincerity. She bares her heart in front of Scarpia, "I lived for art, I lived for love… Why, oh Lord, why dost Thou repay me thus?" Sincerity is her greatest power. You need to treasure it, to preserve it up to this moment. Otherwise, everything happening loses its poignancy and becomes a routine. This is probably the clearest example of the difference between the drama and the musical theatre created by Puccini. I would love the audience to feel it.
The world of
Tosca
is the world of the subconscious, the world of visions. This opera can be staged as a deeply personal experience of the characters, balancing on the edge of déjà vu and premonitions. Each character on stage lives both a real and an inner life. In each of them there is a continuous flow of epiphanies, memories, fears, and momentary plans, but all of this is latent and reveals itself only in the music. Music works as a "lie detector" and shows and reveals the x-ray of feelings.
- You always work both as a director and stage designer; you are in charge not only of the stage set but also of the lighting and of the costumes. What does your work start with? Is it the concept, the visual cues?
- I am often asked to explain how this way of doing everything together and at the same time came about. I often find it difficult to explain it fully. For me it has always been like that and it couldn't be different. As a child, I started drawing even before expressing myself in words. I have always drawn and recreated an inner world, never a realistic world. Naively, before I knew the real mechanism of institutional theatre organization, I believed that the performance of an opera was the product of the research of a single artist. Just as I never thought it possible that a painter could delegate the details of his composition to another, or that a novelist could use others to complete his descriptions. It is more of an instinctive vocation as a craftsman, often a painful one; it is an unthinkable effort born of a need for unity and profound coherence: on the stage I am moved not by rational thought towards direction or scenography, but the instinct towards dreams of a lost homeland. On the stage, everything has to do with everything: this is why it took me a lifetime to learn or invent "the job": from sculpture to painting, from costume to light, from choreography to meditation, all to be able to elaborate a plastic code capable of giving substance to a dramaturgy of music and action.
- There is always a contrast of eras in your scenography. It's as if you are speaking to the audience in the language of modern installations and the language of classical art at the same time.
- I've always been attracted by the contrast between the modern, which will soon fade into oblivion, and the ancient, which will remain for centuries. The audience in theatre is always attracted by new technology, but it is that ancient, eternal art that helps us live. For me theatre is sacred, and it must bring people strong emotions, awaken thoughts. And unite all the arts. Opera must speak to everyone and about everything. I believe that the theatre has its magic, and it is the most beautiful thing that exists in today's world.
The interview was conducted by Tatiana Belova and Aleksanda Bereza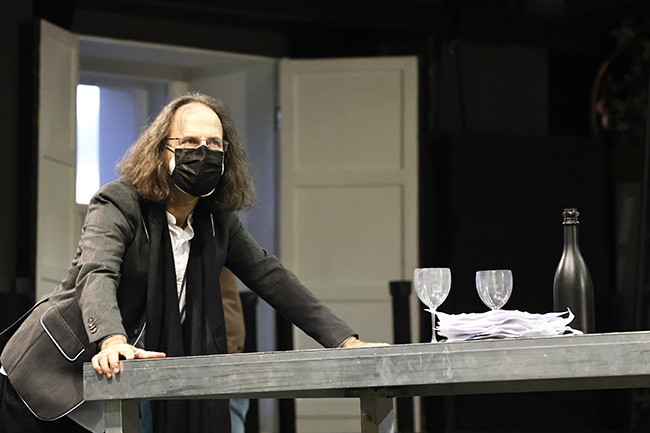 Stefano Poda. Photo by Damir Yusupov
In 1889, Puccini saw the play
Tosca
by French dramaturg Victorien Sardou for the first time, with the great Sarah Bernhardt in the leading role. Afterwards, the composer wrote to his publisher Giulio Ricordi:
"I am thinking about Tosca! I beg you to perform all the necessary formalities in order to get Sardou's permission before you abandon this idea, which would upset me greatly because it is Tosca where I see an opera for myself — the performance of not excessive scale nor high-flown; it is not that plot which could allow space for usual musical extravagancy"
. At the same time, Franchetti and Verdi were interested in the drama but due to Ricordi's efforts, the right to compose an opera was received by Puccini. The negotiations with Sardou and work on the libretto were protracted and took several years, so the composer began his work on the music score only in 1898. The premiere of the opera was given on the 14th of January 1900 at Teatro Costanzi in Rome.
At the Bolshoi Theatre,
Tosca
has been staged five times. The premiere took place in 1930 (director — Andrey Petrovsky, conductor — Vladimir Savych, designer — Vasily Luzhetsky). In 1934, a new version of the opera was presented by director Nikolay Dombrovsky, conductor Alexander Melik Pashayev and designer Vasily Luzhetsky. During the war years, the performance was staged twice: in 1942 and 1944. The productions were realised by the directors Sergei Yudin and Nikolay Dombrovsky, conducted by Alexander Chugunov and Kirill Kondrashin, Leonid Fedorov designed both of them. A production that has become truly legendary was created by director Boris Pokrovsky, designer Valery Levental and conductor Mark Ermler. Being staged in 1971, it stayed in the repertoire until 2014, and during that period was performed over 350 times.
The history of
Tosca
at the Bolshoi Theatre is related to the names of outstanding artists. The leading part, at different times, was performed by Stefania Zorich, Ksenia Derzhinskaya, Alexandra Byshevskaya, Galina Vishnevskaya, Tamara Milashkina, Makvala Kasrashvili and Elena Zelenskaya. The part of Cavaradossi was performed by Nikolai Ozerov, Boris Evlakhov, David Andguladze, Nikandr Khanayev, Vladimir Atlantov, Vladislav Piavko, Zurab Sotkilava and Badri Maisuradze. As Scarpia, Leonid Savranski, Georgy Korotkov, Vladimir Lyubchenko, Vladimir Politkovsky, Mikhail Kiselyov, Vladimir Valaytis, Yuri Mazurok and Vladimir Redkin.
The current production of
Tosca
also gathered an outstanding performing crew. The leading parts are performed by the stars of the Bolshoi, Dinara Alieva, Oleg Dolgov and Elchin Azizov, as well as by guest soloists. The leading part will be performed by Lianna Haroutounian, a frequent guest of the leading opera theatres around the world, who became famous as an outstanding performer of the repertoire by Verdi and Puccini. In the part of Mario Caravadossi, Massimo Giordano –
"a visually and vocally perfect Italian tenor"
(Der Tagesspiegel, 14.04.2014) – and a young Azerbaijani singer Azer Zada, who is making a fast-moving career abroad (at the Bolshoi he performs the parts of Alfredo in La Traviata and Rodolfo in La Bohème). The part of Scarpia will be performed by Gabriele Viviani – a famous Italian baritone
"with beautiful timbre, confident technique, a resonant and soaring voice"
(Operaclick.com, 30.05.2015).
The premiere series of the productions will be held on from the 21st to the 25th of April on the New Stage.
Print

| About Us | Repertoire | Artists & Staff | Your Visit | Museum | Shop | Partners |
| --- | --- | --- | --- | --- | --- | --- |
| | | | | | | |