A Lively Story
13.12.2015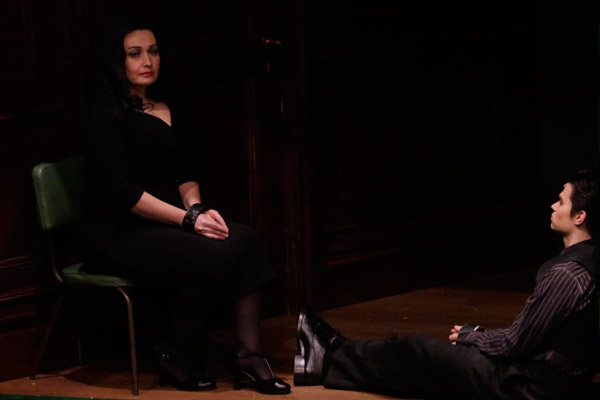 Dina Kuznetsova as Rodelinda. Matt Casey as Flavio.
It is generally considered that
Rodelinda
is one of the most beautiful of Handel's operas. It was written in the 1720's when Handel was at the very peak of his creative powers and producing one masterpiece after another.
From 1720-28 Handel was music director at London's Royal Academy of Music (King's Theatre Haymarket). Over this period he gradually transformed the 'baroque' model of theatre with its effective crowd scenes, natural cataclysms and great number of weird happenings, into a new vision of opera. And
Rodelinda
is a striking example of this new vision: here there are no battles, no majestic processions, nor fantastic visions. Strong passions take the place of external theatre effects. The conflict becomes more chamber-like, the characters – more complex and contradictory.
This opera is also of interest for the fact that Handel gives the central role to a woman. Traditionally, it was hero-lovers, legendary military commanders and noble kings who took centre stage in opera, sung by castratos, the first opera stars of the time. But, in
Rodelinda
, the king (for all the incredibly beautiful music given to him) – is a fairly ambiguous personage. While the opera revolves round a strong-willed, devoted, bold and noble queen.
The librettist (also composer, cellist and impresario) is Nicola Francesca Haym who reworked for Handel the already existing libretto by Antonio Salvi (1710), the latter in turn being inspired by Pierre Corneille's tragedy
Pertharite, Roi des Lombards
(1652). For all that, real historical events (as described in
Historia Langobardorum
by the Benedictine monk Paul the Deacon) form the basis of the opera which, however, are altered to such an extent that there is no recognizing them.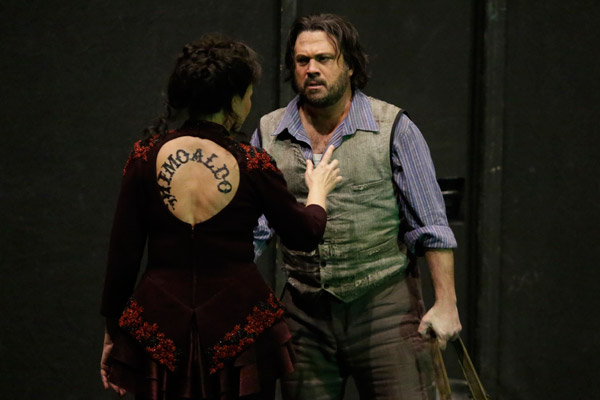 Ruxandra Donose as Eduige. David Daniels as Bertarido.
Handel started composing
Rodelinda
in December 1724, after two extremely successful premières –
Giulio Cesare
and
Tamerlano
. By January of the following year,
Rodelinda
was ready and, on February 13th, it was given its first performance. The main roles were sung by the greatest stars of the day - Francesca Cuzzoni (Rodelinda), the castrato Senesino (Bertarido), Andrea Pacini (Unulfo) and Francesco Borozini (Grimoaldo). They had a resounding success. The costume of the main heroine gave birth to a new fashion, according to the historian and writer, Horace Walpole: "on her appearing in this opera, in a brown silk gown trimmed with silver, with the vulgarity and indecorum of which all the old ladies were much scandalised, the young adopted it as a fashion, so universally, that it seemed a national uniform for youth and beauty". In May of the same year (1725), Handel decided to publish for the first time the full score of his opera (before this only opera librettos or collections of arias were issued).
Rodelinda
was given fourteen performances and was put on again in December 1725 and in May 1731. In 1735, it was produced in Hamburg…
In the 20th century it was with this opera that Handel began to make his return to the world opera repertoire. On 26 June 1920
Rodelinda
was produced in Göttingen by enthusiasts from Göttingen University (the opera was sung in German, with cuts and re-arrangements, all the male parts being sung by "real" male voices – tenors and baritones). By the end of the 1920s, this opera had been heard in many German towns and, in 1939,
Rodelinda
returned home, in England.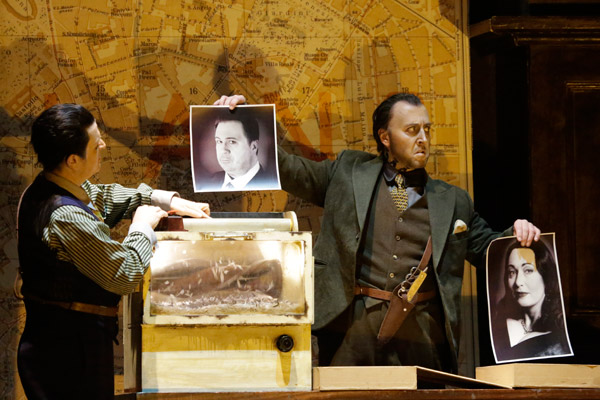 Paul Nilon as Grimoald. Richard Burkhard as Garibaldo.
The Bolshoi's new production of
Rodelinda
also hails from England: it is a Bolshoi Theatre - English National Opera co-production. Richard Jones, a leading English opera producer, presents us with his view of the work. The ENO production was premièred in 2014. It got a very enthusiastic reception and was praised by the press as being inspired, intelligent, brilliant!
"There have been many radical and memorable Handel productions in Britain over recent decades, though none of them has been by Richard Jones. Astonishingly, the new ENO Rodelinda is his first Handel in the UK, but it's been worth the wait.
… Handel's Grimoaldo repents and hands back the kingdom to the real king, Bertarido, but Jones's chilling ending suggests the new regime will be no less murderous.
Both noir thriller and surreal black comedy, Jones's version lays on the humour like heavy mascara but at its best it's inspired. Jeremy Herbert's ingenious set, lit starkly by Mimi Jordan Sherrin, divides the stage area into as many as six compartments, allowing us to see persecutors and victims responding differently to surveillance and allowing for multiple doorslamming routines that hover between creepiness and slapstick". (Evening Standard).
"Richard Jones's new production of
Rodelinda
for English National Opera relocates Handel's masterpiece to an imaginary post-war Italy observed through post-modern eyes. It's an unsettling piece of theatre that probes Handel's bitter political drama with great intelligence, if occasional waywardness.
Jones's interpretation is bleak. He sets much of it in a series of underground rooms that look like some former fascist bunker, but which now comprise Grimoaldo's office, Rodelinda and Flavio's cell, and a torture chamber for Grimoaldo's nasty sidekick Garibaldo. The only escape from this hellhole is to the dreary bar, where Bertarido and his sister Eduige, drown their sorrows under the watchful eye of Bertarido's loyal servant Unulfo.
Jones, as so often, tellingly deploys cinematic allusions. …agonised Rodelinda looks like Anna Magnani in neorealist mode, while the cameras hidden in her dressing table mirror, which Grimoaldo uses to perve over her every action, are out of
From Russia With Love
. It's strong stuff, though Jones departs from Handel in his treatment of the omnipresent yet silent Flavio. In place of a vulnerable child used as a pawn in an adult world, we find an assertive twentysomething … complicit in his mother's resistance, and transformed, by the end, into a greater monster than those around him. The point about power breeding violence is forcefully made..." ("Guardian").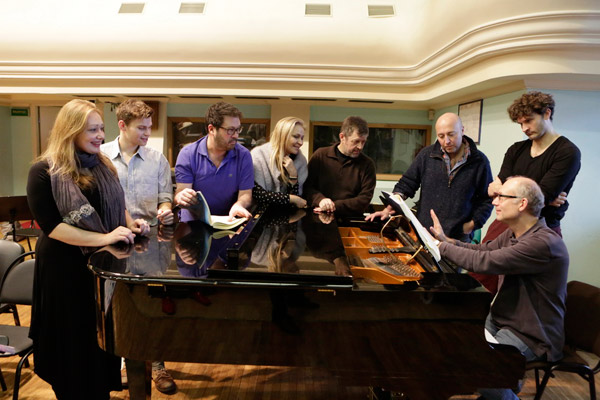 All seven characters under the direction of maestro Christopher Moulds.
Photos by Damir Yusupov.
Maestro Christopher Moulds, famous for his interpretations of Mozart, Monteverdi and Handel operas conducts the premiere at the Bolshoi.
Rodelinda
has a brilliant cast. The title role is performed by the Russian-American singer Dina Kuznetsova, a leading opera diva who possesses "a seductive and arresting voice – warm and generous, with an easy top end that conceals a true lyric temperament" ("Le Figaro"). The world opera star counter-tenor, David Daniels, sings Bertarido. One of the best known British tenors, Paul Nilon, performs the infamous Grimoaldo. The part of Eduige is sung by the Rumanian mezzo Ruxandra Donose who is a frequent guest artist at The Royal Opera House, the Met, the Paris National Opera and the Viennese State Opera. As at the ENO première, Garibaldo will be performed by the baritone Richard Burkhard (praised by the English critics for his singing and acting skills). The young counter-tenor, William Towers, is Unulfo. The silent role of Rodelinda's son, Flavio, is performed by the young British actor Matt Casey (he was Flavio in the ENO production).
The première series of performances will be on 13, 15, 17 and 19 December at the Bolshoi's New Stage.
Print

| About Us | Repertoire | Artists & Staff | Your Visit | Museum | Shop | Partners |
| --- | --- | --- | --- | --- | --- | --- |
| | | | | | | |