Famous Ariodante continues Handeliana at the Bolshoi
22.07.2021
Ariodante was only heard in concert version in Russia in 2011, conducted by maestro Christopher Moulds. Following Rodelinda and Alcina, production on New Stage will become a sequel to a series of Handel premieres at the Bolshoi Theatre. Opera is awaited with a special interest, due to the other reason as well: it was produced by familiar to Moscow audience American director David Alden. He was the one to deliver one of the most successful projects of the Bolshoi Theatre: production of operas Billy Budd by B. Britten, which was created in collaboration with English National Opera and Deutsche Oper Berlin. Performance took National Theatre Award, The Golden Mask, in nominations "Best Opera Performance" and "Best Scenic Design" (2018).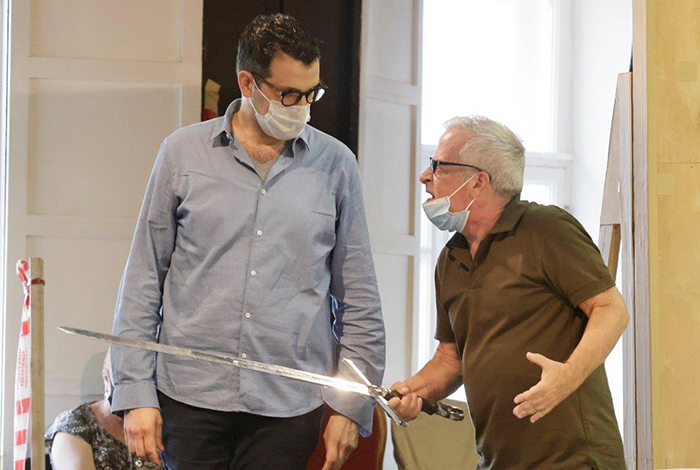 Luca Pisaroni and David Alden. Photo by Damir Yusupov
Ariodante
while being getting ready to be released at the Bolshoi Theatre saw the limelight already. It was premiered at English National Opera, where Handel's compositions are one of its "majors".
Listening to the feelings of the heroes in opera final scenes, director conveys ambiguity of seemingly cheerful ending. People's mental state, who lived through betrayal and despair even after granting forgiveness, cannot stay the same. Something that is destroyed is impossible to restore, at least in its original state – and it can be clearly seen in Alden's work. Joyful excitement of lovers, confession in eternal love, along with congratulations addressed to courtiers after everything happened are viewed as some sort of conditionality through a prism of baroque rhetoric.
Music Director Gianluca Capuano, famous organist, choirmaster, and book author about vocal, is esteemed interpreter of baroque operas. He already visited Moscow, but will perform at the Bolshoi for the first time.
Ariodante
at the Bolshoi gathered wonderful cast. Leading soloists of the Bolshoi are occupied in performance: Albina Latipova, Ekaterina Vorontsova, Ekaterina Morozova, theatre apprentice Konstantin Artemiev, soloist of Chamber Stage Vasily Gafner. Guest soloists are invited as well; each of them is well-recognized interpreter of baroque music.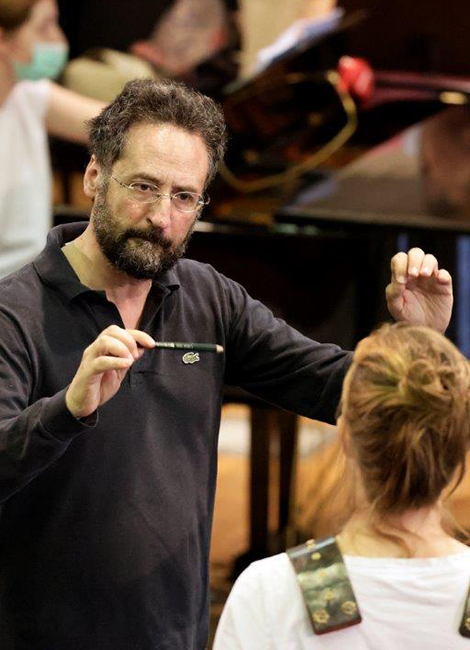 Gianluca Capuano. Photo by Damir Yusupov
Italian singers Luca Pisaroni and Renato Dolcini play part of King of Scotland. Press continuously calls Luca Pisaroni "singer- actor" who transforms each performance when appears onstage. Singer became famous, first of all, as an excellent performer of Mozart operas. Yet, his diverse repertoire includes both baroque music as well as contemporary composers. Renato Dolcini has primarily baroque repertoire. Singer collaborates with distinguished conductors, orchestras and ensembles specialized in authentic performance (among conductors, for example, are William Christie, John Elliot Gardiner, Giovanni Antonini, Stefano Montanari, Fabio Biondi and others).
Renowned British artist Sarah Tynan performs on stages of leading opera houses, concert halls and festivals in her home country and abroad. In 2019, based on newspaper Evening Standard rating, she entered the number of the best artists of the Kingdom. At the Bolshoi, she sings a part of Ginevra, which she performed at Scottish National Opera. Besides, her broad Hendel repertoire includes Dalinda, which she played in
Ariodante
at English National Opera.
Irish singer Paula Murrihy, who is already well familiar to Russian audience due to performance with orchestra "MusicAeterna" and Teodor Currentzis, has title role. She performed Ariodante part for the first time on stage of Royal Opera, Covent Garden during current season - and her debut caused a real excitement among critics.
Artists performing part of Polinesso are worth mentioning. They are famous contra tenor Christophe Dumaux - "expert in role of Polinesso, who is with a daunting force cleaves octaves as it should be done by a true villain" (Resmusica.com, 26 February 2019) and Italian singer Carlo Vistoli, who is " blessed with a subtle music sense and perfectly set voice with unbelievable beautiful timbre" (Сonnessiallopera.it, 7 May 2019)
Alumni of Royal Academy of Music and Youth Programme of English National Opera, Knight of the Order of British Empire from 2019, Mary Bevan, performs Dalinda. At the center of her professional interests are music from baroque epoch and contemporary opera; singer collaborates with Royal Opera, Covent Garden, English National Opera as well as famous orchestras, among which are Symphonic orchestra and BBC Philharmonic orchestra, Orchestra of the Age of Enlightenment, Birmingham Symphony Orchestra. Mary Bevan debuted as Dalinda at Carnegie Hall with ensemble "English concert" under Harry Bicket.
Bernard Richter, who has part Lurcanio, can really be called a universal singer - his broad repertoire "spreads" from Handel and Mozart to Mahler and Wagner.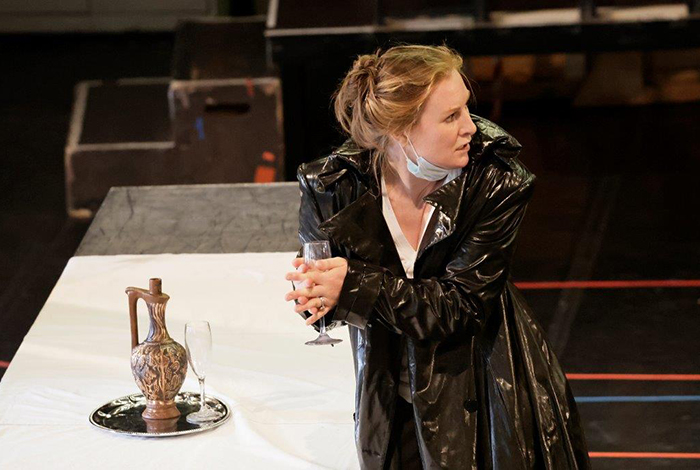 Paula Murrihy. Photo by Damir Yusupov
G.F Handels' opera
Ariodante
premiered on stage at the newly opened at the time Theatre Royal, Covent Garden in London on the 8th of January 1735. Italian stars participated in its opening, which was led by the composer himself. Main role was performed by castrato (alto) Giovanni Carestini (nicknamed Cusanio), Ginevra – by primadonna of Hadel enterprize Anna Maria Strada, Polinesso – contralto Maria Caterina Negri and others. Equally great interest was caused by the name of a famous French dancer Marie Sallé on the billboards. Ballet divertissements, counting on her participation, were staged herself and she was a leading soloist there, were introduced in each of the three opera acts.
Italian libretto by Antonio Salvi, based on the poem
Orlando furioso
by Ludovico Ariosto. It was deprived of common for that time spectacular transformations and exotics; plot, compared to other Handel's operas, was perceived almost as 'family story'. Setting place was Scotland. Participants were King Arthur and his daughter Ginevra, Scottish knights brothers Ariodante and Lurkanio, Duke of Albany Polinesso, attendant on Ginevra – Dalinda and few others. In key moments, there are some similarities with Shakespeare's
Othello
: Polinesso, an intrigant, who was triggering main hero's jealousy of the on the way to the power and destroying his idealistic happiness, clearly resembled Iago, whereas slandered and innocently suffered Ginevra – Desdemona. Events and reactions of the heroes – wedding preparation, which was interrupted by the slander, of deeply in love Princess Ginevra and Ariodante, their long separation and sufferings, cruelty of father towards Ginevra, nevertheless reunion of loving couple in the end – became so psychologically accurate that it went beyond the frame of the existing at the time etiquette.
Queen Carolina shared after premiere: "They say here opera is so pathetic and gloomy that everyone gets under impression and comes back hope upset after watching it". Perhaps this particular reason (despite complexity, remarkably expressive music and excellent performance) paved the way to the short stage story of
Ariodante
: opera was shown only eleven times and was forgotten afterward for a long time.
Revival started from performances in New York and Washington in 1971 initiated by Handel Society in New York (conductor Steven Simon). The same year, Steven Simon made opera first recording in Vienna. Yet for several decades both theatre premieres and opera recording remained a single version.
Ariodante
became one of the most performed of Handel's opera in the 1990s after its productions in London, Dallas, New York and Munich.
Story, which seemed quite gloomy to the audience of the XVIII century, seems modern and exciting in this day and age. For a reason,
Ariodante
is now one of the most in demand baroque operas. Geography of its productions for the past decade accounts for more than thirty European and American cities including Vienna, Salzburg, London, Stuttgart, Dublin, Barcelona, Madrid, Paris, Toronto, Chicago.
Print

| About Us | Repertoire | Artists & Staff | Your Visit | Museum | Shop | Partners |
| --- | --- | --- | --- | --- | --- | --- |
| | | | | | | |