O luce di quest' anima: a meeting after one and a half centuries
09.06.2022
The Alpine village of Chamounix is lit with sunshine, the reassuring ringing of church bells, the savoyard's song is accompanied by the hurdy-gurdy. An aristocratic Parisian saloon with the roofs of basilicas through its windows… All these picturesque images become the background of a story about a village beauty Linda and her lover, Vicomte de Sirval, who pretended to be a poor artist; the story of love and betrayal, of Linda's madness and her miraculous healing. To everyone's rejoicing in the finale, Carlo asks Linda to become his wife.

This story united the favourite themes of the Italian opera librettos of the bel canto era (many audience members would probably find something familiar in it). The plot, cut out in accordance with the best examples, became the foundations of one of the finest operas of the 19th century. Its music represents an array of splendid solo and ensemble numbers performed by a sextet of soloists headed by the prima – soprano with the finest coloratura part (her cavantina O luce di quest' anima is well known to music lovers).

The premiere of the opera (in the first version) took place in Vienna in 1842, the premiere of the second version – in Paris that same year. At the Bolshoi Theatre it was performed for the first time by the Italian opera troupe in 1845, after which it only appeared twice in the space of a quarter of a century (the last time was in 1871). Thereafter, along with other operas by Bellini and Donizetti, Linda di Chamounix disappeared from the repertoire of the Bolshoi Theatre for many years.

Nowadays, while some long-forgotten titles start to appear in theatre bills more and more often, Linda di Chamounix has remained a rare guest on theatre stages. This is due to the difficulty of finding an appropriate cast and, most of all, Linda herself.

However, after a century and a half, Linda is coming back to the Bolshoi. The leading part will be performed by Venera Gimadieva, a renowned performer of the bel canto repertoire, a global star – and an alumnus of the Young Artists Opera Program at the Bolshoi Theatre.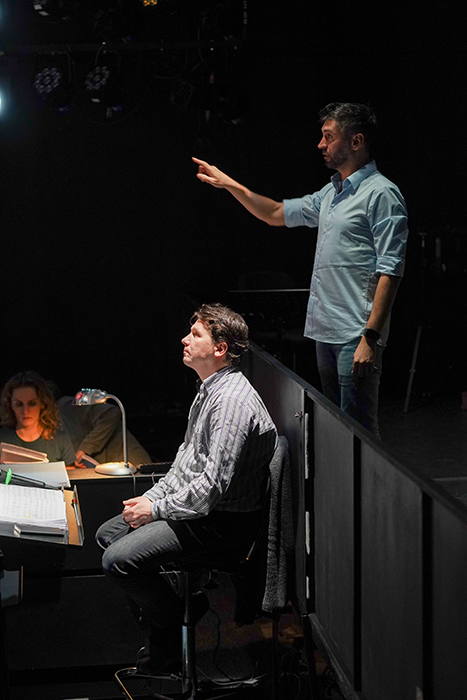 Anton Grishanin (conductor) and Roman Feodori (stage director).
Photo by Pavel Rychkov.
Conductor Anton Grishanin and Linda di Chamounix – Venera Gimadieva talk about the upcoming premiere.
Anton Grishanin:
From my point of view,
Linda di Chamounix
was underestimated which it totally did not deserve. In those days, this opera was extremely popular amongst the audiences but now, unfortunately, it is rarely performed in foreign theatres and has not been staged in Russian for a long time. It seemed that we had to make up for this nuisance.
The staging of bel canto operas in Russian theatres is a complete rarity. It is hard to find a balanced and harmonic cast who could masterfully perform this style. Not every theatre can afford it. Luckily, there are soloists in our troupe who can perform this complex repertoire in a fitting manner. Having said that we could not get by without guest singers: it is challenging to gather a well-balanced cast. However, we are aspiring to that.
Singers were once unable to have a dozen or more parts which would be their calling cards. These days this tradition is fading away. Life (as well as their agents, producers, directors, conductors…) makes them experiment, step out of their usual boundaries and accept compromises.
In this sense, Venera Gimadieva can be considered an exception: she is extremely selective in her choice of parts. To 'land' a singer of such a level for the whole rehearsal period these days is a great fortune. We have enlarged the part of Linda by including a long solo fragment to the madness scene at the end of the second act, which is not usually performed. It was in the first Viennese version, but disappeared in the second Parisian one, that, to my taste, is a great musical loss. In many productions, this aria (this fragment fully deserves to be called that) is not performed traditionally, but we have included it in our staging. We have also prepared such a surprise for the audience as a gironde. It is a rare musical instrument, a so-called hurdy-gurdy. We purchased it specifically for this production. It accurately reproduces the atmosphere of village life of that time and sounds bright and authentic. The noise of this instrument might even seem to bring a slightly unstable intonation, but this is what gives it a special pastoral charm.
Venera Gimadieva:
There are no passions in the part of Linda, it is completely refined. If in the parts of Cio-Cio-san and Tosca one might find a way out of complicated situations by expressing emotions, there is no such option here. Everything sounds mezzo voce and piano, with the maximum of mezzo forte. Here you need constant control of the vocal vertical, intonational accuracy of cadences. They must be crystal clear.
Our director, Roman Feodori, wants to show that Linda lives in her own world. The picture of the village pastoral, in the background of which Linda exists, is an image, created by her lover Carlo. She makes everything up, she is a dreamer. Unlike many heroines of romantic operas, she departs to the world of her fantasies, without killing anyone, without destroying anything and without dying. In her imagination, Linda is happy with her betrothed. But later, when the picture in her head coincides with real life, she suddenly sees things clearly. The pastoral comes to life…
Interviewed by Olesya Bobrik.

The premiere series of the performances will be held on the 9th-12th of June.


Print

| About Us | Repertoire | Artists & Staff | Your Visit | Museum | Shop | Partners |
| --- | --- | --- | --- | --- | --- | --- |
| | | | | | | |