Berlioz makes his entrance!
22.07.2016
The term dramatic legend indicates a mixture of genres. As with the composer's 'dramatic symphony' Roméo et Juliette, magically interwoven in La Damnation de Faust, are elements of opera, ballet, oratorio and symphonic suite, while the detailed stage directions in some places in the score suddenly give way to their total absence. One explanation for this could be the fact that, initially, Berlioz conceived of his work as a 'concert opera'. The first attempt at a stage production of La Damnation de Faust was in 1893 (at the Opéra de Monte-Carlo). Since then, various productions of 'the legend' have competed successfully with concert performances of the work.

The 1st concert performance at the Bolshoi of La Damnation de Faust was in 1921, and the next one was not till 2002. In recent years, on the initiative of Tugan Sokhiev, the Theatre's Music Director, works by Berlioz have been played regularly at concerts at the Bolshoi (Grande messe des morts [Requiem], La mort de Cléopâtre , Les Nuits d'étè vocal cycle). However, to-date, not a single work by the 'fiery romantic', has been staged at the Theatre.

Tugan Sokhiev:
"Berlioz is one of my favorite composers. Had it not been for him, we would not know that romantic – and not only romantic – music we love today. Berlioz's influence on the entire future development of music (Ravel and Debussy included), its stylistics and expressive means, is impossible to overstate. And Berlioz was virtually a contemporary of Beethoven's (he began to write Huit scenes de Faust when Beethoven was still alive)! Though, of course, Beethoven's last works and what Berlioz wrote, from La Symphonie fantastique onwards, are worlds apart... The plot of La Damnation de Faust acted as a stimulus for the expression of feelings by which Berlioz himself was perturbed. It was not the Faust story as such which interested the composer, but rather the emotional state of the main characters and the more striking (in his view) stage situations. And that is why the storyline is so compressed, or rather jumps - as do Faust and Méphistophélès - from scene to scene.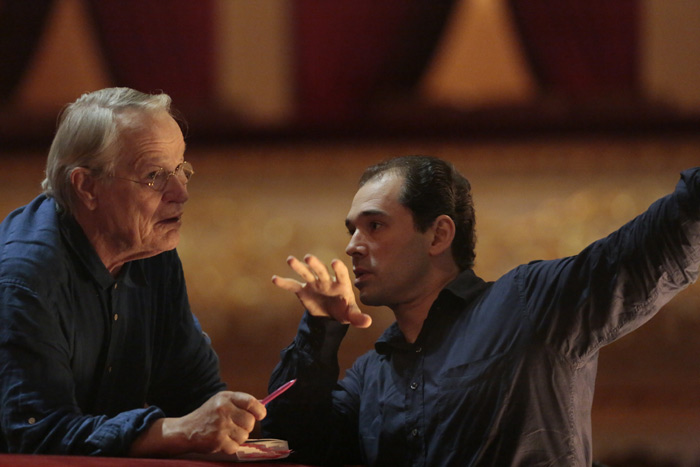 Peter Stein and Tugan Sokhiev. Photo by Damir Yusupov.
Now for the no less riveting theatrical component of our première.
La Damnation de Faust
is staged by Peter Stein who enjoys worldwide fame as a director of both theatre and opera. In the former capacity he has been well-known to the Russian public since 1991, his last theatre production in Russia was Pushkin's
Boris Godunov
for Moscow's
Et Cetera
Theatre, in 2015. He has produced operas for La Scala, the Met, the Paris Opéra and the Salzburg Festival. In 2014, Stein did a production of Verdi's
Aida
for the Stanislavsky and Nemirovich-Danchenko Moscow Music Theatre. A Stanislavsky disciple, Stein adheres to a principle rarely found among present-day opera producers: he believes one should stick to the composer's intentions. Time and place of action, the personalities of the characters, their costumes and stage behavior, should be totally in keeping with the libretto.
Tugan Sokhiev
:
"Stein does not 'interpret' anything. He keeps strictly to the written text which is why it is so rewarding to work with him. He carries out everything to the letter. If it is stated Faust and Méphistophélès will disappear, then this is what they will do. If the leading characters are said to fly off somewhere, then fly off they will.
"It is not Goethe's
Faust
we are producing", was how Stein started to talk about the future production at his first meeting with the cast. Demonstrating and commenting on the main mis-en-scènes, he pointed out the chief difficulties involved in staging the "dramatic legend": the virtually constant presence on stage of the chorus (added to which, since they represent different dramatis personae, the chorus members are always changing costume), rapid scene changes involving totally new sets….Even given today's technological stagecraft, it would not be easy to carry out the composer's instructions. But this was exactly what Peter Stein was determined to do.
Opera director Peter Stein has another distinguishing quality. For him an opera production is not "personal space", but rather the result of joint work with the conductor, with whom there should be total mutual understanding.
Tugan Sokhiev
:
"We see this work in exactly the same way… This is a man who has infinite respect for the composer and his score, and pays attention to both the dynamic and rhythmic nuances. He is an opera director who works from the music notes – and that is marvelous! It seems to me there is also a 'Berliozian' dimension to Stein, though in the German fashion…"
The casts include leading Bolshoi soloists and guest artists
.
The première series of performances are on the 22nd, 23rd, 24th (12 noon and 1900 hrs.), and 25th July
.
Print

| About Us | Repertoire | Artists & Staff | Your Visit | Museum | Shop | Partners |
| --- | --- | --- | --- | --- | --- | --- |
| | | | | | | |