He just wanted to get everything out of his life…
03.11.2021
The premiere is also noteworthy for its cast of soloists. The part of Don Giovanni is performed by Ildar Abdrazakov (in this role, the singer performed at the Mariinsky Theatre, the Metropolitan Opera, the Vienna State Opera etc.) and by Daniel Okulitch (who specialises in Mozart's operas and performed as Don Giovanni in the theatres of New York, Vancouver, Seattle, Detroit and New Orleans, among others). Leporello's part is performed by Krzysztof Bączyk (he is a welcome guest at the Paris National Opera, the Royal Opera House in Covent Garden and at the Glyndebourne Festival) and Nahuel Di Pierro (who participated in festivals in Saltsburg, Aix-en-Provence, Edinburgh and the Rossini Opera festival in Pesaro, Don Ottavio — by the soloist of the Bolshoi Theatre, Bekhzod Davronov and Tuomas Katajala (the Finnish National Opera, the Glyndebourne Festival, the State Operas in Berlin and Hamburg, and others), Commendatore — by the soloist of the Bolshoi Theatre, Denis Makarov and Alexander Teliga (La Scala, the Vienna State Opera, the Royal Danish Opera, Teatro La Fenice and others). The female soloists of the Bolshoi Theatre are performing in the opera as well: Albina Latipova and Svetlana Lachina (Donna Anna), Dinara Alieva (has performed the role of Donna Elvira at the Vienna State Opera, the Latvian National Opera, Deutsche Oper Berlin, and will make her debut at the Hessisches Staatstheater Wiesbaden in 2022), Ekaterina Morozova and Anastasia Shchegoleva (Donna Elvira), Ekaterina Vorontsova, Anastasia Sorokina and Guzel Sharipova (Zerlina). Very young singers, a soloist of the Bolshoi, Alexander Borodin (Leporello, Masetto) and an apprentice with the opera troupe, Daniil Akimov (Masetto) are also involved in this production.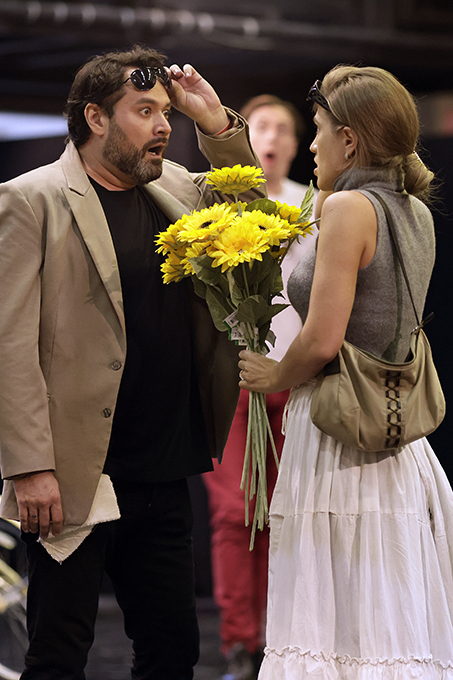 Ildar Abdrazakov (Don Giovanni), Ekaterina Morozova (Donna Elvira).
Photo by Damir Yusupov.

In the new performance, the characters of this legendary story belong to a society where the cult of hedonism and an uncontrollable thirst for pleasure reign. According to the director, this "production is not about a seducer but a person who lives playing and while loving life, he wants to get everything out of it". In terms of the style, the action is reminiscent of the neorealism era in Italian cinematography, which combines irony, touching naivety, simple-heartedness, violence and the defencelessness of the characters with a tragic depth. All of that contributes to the realisation of
Don Giovanni
in the spirit of emotional experience theatre, with a naturalism of emotions and reactions, which is unusual for our time of radical directorial experiments.
Print

| About Us | Repertoire | Artists & Staff | Your Visit | Museum | Shop | Partners |
| --- | --- | --- | --- | --- | --- | --- |
| | | | | | | |