"And summer's warm nocturnal gloom…"*
23.06.2021
The atmosphere of sounds in the opera Mazeppa by Tchaikovsky appears from a combination of intonations of the Southern Slavic speech, which is heard around magnificent cherry orchards and quiet rivers, and a bloody tragedy, one of the darkest in the history of the genre, unfolding against this background. Pushkin's Poltava, which became the foundation of the libretto, inspired the composer to create a musical canvas about the death of the powerful grandee Vasily Kochubey's family. A tragic ending awaits every character without exception — their lives are being ruined irretrievably, from the idyllic first scenes to the dark finale.

Tchaikovsky confessed there was no other writing that was as hard to compose as this opera. Naturally, there was less enthusiasm in his work to start with, less of a spontaneous and intuitive approach than we can see in the cases of Eugene Onegin and The Queen of Spades. However, this circumstance also had some positive outcomes: as a result, we have a true masterpiece, Meisterwerk, which perfectly fits the "matrix" of romantic opera. The plot of Poltava provided the composer with material for huge duet scenes of disputes (comparable to Aida by Verdi), a classical love triangle (Maria, Andrei and Mazeppa), large scale choral episodes, and finally, for an astonishing climax — the descent into insanity of the main female character and her enlightened departure (let us remember Lucia di Lammermoor by Donizetti or the future The Tsar's Bride by Rimsky-Korsakov).

The world premiere of Mazeppa took place on the Historic Stage of the Bolshoi Theatre on the 3rd of February 1884. Further recreations and new productions of the opera were regular: over almost one and a half centuries, there have been seven of them. The creators of the new performance, chief conductor and music director of the theatre Tugan Sokhiev and director Evgeny Pisarev tell us more.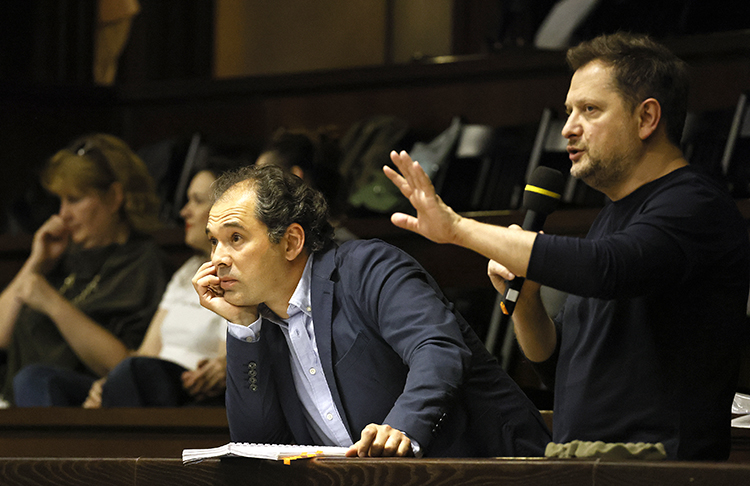 Tugan Sokhiev and Evgeny Pisarev. Photo by Damir Yusupov

Tugan Sokhiev:
Mazeppa
is performed more rarely than other Pushkin operas by Tchaikovsky, Eugene Onegin and The Queen of Spades. Although, we cannot say that nowadays this opera does not belong to repertoire: it is performed in Germany, France, at the Mariinsky Theatre.
When I conduct this opera, I hear intimate quotations from
The Maid of Orleans.
There are many similarities in the dramaturgy and orchestration. The scenes of disputes— Mazeppa against Kochubey, Orlik against Kochubey, the scene of Maria and Lyubov— were done by Tchaikovsky so well. The general dramatic development is arranged in crescendo and directed to the culmination, the scene of the execution of Kochubey and Orlik. Its choral prayer is a revelation! Its emotional tension is comparable to
Boris Godunov
and
Chovanshina
by Mussorgsky, the future
Kitezh
can be heard there too.
Everything that follows this opera is more of an epilogue. For the operatic genre, such a finale, a quiet lullaby by Maria to the dying Andrei, is a leap into the future, a step away from the canon.
All the main vocal parts in
Mazeppa
are of colossal, as one might say, Wagnerian complexity… For their range, as well as the duration of the pieces.
The vocal parts are written as highly dramatic, and it contains the artistic goal. Mazeppa is constantly in a border state: one moment he is a lyrical baritone with a good, almost tenor-like top, another moment he is a bass-baritone. But our wonderful artists will sing, they manage their parts extremely well.
There is a light Ukrainian atmosphere in the music, although Tchaikovsky conveys it differently from, let's say, Rimsky-Korsakov…
Of course, it is not
May Night
by Rimsky-Korsakov. Here everything is softened to half-tones… When Mazeppa's scene "How still a Ukrainian night is" begins, I immediately remember Dnieper in the landscapes of Kuindzhi. This stuffy summery air, with almost no breeze.
Actually, it is hard to perceive the plot of Mazeppa out of the modern political context…

We are working on the particular score by Pyotr Ilyich Tchaikovsky, who could not assume that in the 21 century, Kamenka, the place where he lived and wrote
Mazeppa
would happen to be in a different country. For him, Kamenka, the house of his sister Alexandra Ilyinichna, was a warm family place. This opera is especially wonderful because there is this smell of a Ukrainian field and forest, and those fragments have a specific musical character and that is what makes them so beautiful.
Evgeny Pisarev:
It was a total surprise for me, when after two comic operas, that are shown on stage at the Bolshoi Theatre with great success,
Le Nozze di Figaro
and
Il Barbiere di Siviglia
, I was offered to work on
Mazeppa
. Now, when the work has not been finished yet, I sometimes wonder why I agreed to that, it is not my cup of tea. However, when things work out, I feel that I am opening new opportunities for myself. It is interesting, at least as an adventure.
There is a historical concreteness in
Mazeppa
, which "ties" the director's hands. It is not a coincidence that all the productions of this opera are traditionally costume dressed…
That is right. It is 1709, it is more or less clear how the characters are dressed, what kind of weapons they have, how they communicate… However, on the other hand, that time is almost a legend for us, we barely know anything about the psychology of those people. That is why I think that, having paid tribute to the tradition, we have to slowly move towards our era, in order to realise that, when we go to the theatre for this beautiful, "gaily decorated" production, we gradually understand that it is about us, it is close to us, and we can relate to it.
Together with set designer Zinovy Margolin, we made war into a constant context of the action. The war happens constantly. It is especially painful in this territory: Ukraine has often been a territory of anxiety, instability, conflicts, a sense of betrayal from one side or another, manipulations and substitutions…
Because the war is between the people. Who is right and who is wrong is also a question…


Pushkin had an absolutely clear patriotic position. For him both Mazeppa and Maria are criminals. Tchaikovsky does not think so. He raises Maria aloft by giving her a Christian all forgiving finale… Mazeppa, too, is provided with a complex inner world and we are made to emphasize this monster. An almost Shakespearian theme appears.
In
Poltava
by Pushkin, the elements of plot were not described with equal detail. Tchaikovsky strengthened it: three acts of his opera are three fragments of narrative and they have so many events, happening between then, that the plot line is, in fact, interrupted. Is this fragmented structure of the libretto a problem for a director?
I divided the acts into different times, and I am not even afraid that I will happen to have three different performances, that are united by one theme and one cast. The production is a journey through time: to begin with, it is 1709, then World War One and the Civil War, World War Two and then the current situation. It is going to be one of the largest productions on the Historic Stage: in the sense of the machinery, as well as the depth and volume of scenes.
How, in your view, is the dramaturgy of Mazeppa organised?
In my opinion, there are no coincidences in
Mazeppa
. The whole opera is based on contrasts. Even the additional part of a drunk Cossack in the execution scene works extremely well from a dramatic point of view. It is like a drunk at a funeral. As a person who always looks for light and humour, I thought I would find these in the drunk Cossack. However, I found even more despair and pain in him.
The Russian mentality is powerful but weighing down, insisting on itself. It is so dominant. This story is about extremely ambitious people. In the European understanding, ambitious people are always light. But here, the people are ambitious as well as terribly heavy, gloomy and unhurried. Mad, wild, bestial ambitions, a desire to always take what is not allowed, a constant dispute with God, idée fixe, that both Mazeppa and Kochubey have. One lives for a dream of becoming a king, another — for revenge.


Zeljko Lucic (Mazeppa). Photo by Damir Yusupov
What inspires you in the work on the production?
Artists inspire me a lot. My story proves an axiom that comedies have to be rehearsed in a serious way but tragedies and dramas in a light way. Actors give me faith in myself and in the material as well. I am talking about the soloists and also the extras and choir. The choir and extras have never had such significance in anything I did before. Here, in at least the first two acts, their scenes are central. The voice of the people, the voice of the crowd is incredibly important. For now, my favourite scene is of the execution. Although, it is so hard to create. Tchaikovsky reaches the height of tragedy in it, perhaps because a murder is accompanied by sacred music.
Interviewed by Olesya Bobrik
The current production of "Mazeppa" gathered an
outstanding cast
. The main parts are performed by the leading soloists of the opera troupe of the theatre and guest artists. The part of Mazeppa, for the first time at the Bolshoi, is performed by the famous Serbian singer, the star of the operatic stage, Zeljko Lucic. The soloist of the Mariinsky Theatre, Stanislav Trofimov appears as Kochubey. He the singer who is known to our audience for his parts of Boris, Pimen (
Boris Godunov
by M. Mussorgsky), Sobakin (
The Tsar's Bride
by N. Rimsky-Korsakov) and who successfully performed in the concert version of
Mazeppa
in 2020.
The premiere series of the performances will be held on the 23rd–27th of June.

*A.S. Pushkin Poltava
Print

| About Us | Repertoire | Artists & Staff | Your Visit | Museum | Shop | Partners |
| --- | --- | --- | --- | --- | --- | --- |
| | | | | | | |