CARMEN: THE FLAMES OF SEVILLE
15.07.2015
It was in 1898 that Carmen was premièred at the Bolshoi and since then this marvelous opera has never been absent for long from the repertoire. Carmen has had eight productions at the Bolshoi, including a 1943 production in the city of Kuibyshev (today Samara), where the Theatre was in evacuation during the Second World War, and a 1945 production in Moscow — just one month after Victory Day. A real long-liver was the production by the famous choreographer and director Rostislav Zakharov: was to remain in the repertoire for 26 years (1953-1979) — during which time it was given 430 performances.

In different years at the Bolshoi, the title role was performed by the great singers and unique artists— Vera Petrova-Zvantseva, Cora Antarova, Nadezhda Obukhova, Bronislava Zlatogorova, Vera Davydova, Veronika Borisenko, Irina Arkhipova, Elena Obraztsova, Tamara Sinyavskaya...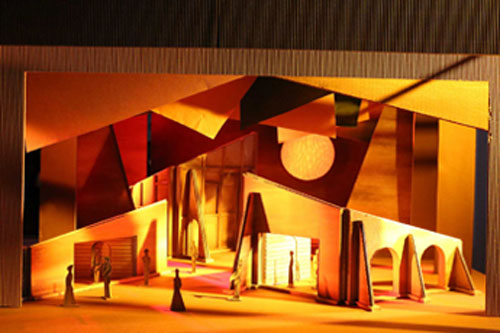 Set sketch. Scenographer Stanislav Benediktov.
Working on the Bolshoi's 9
th
production of
Carmen
is the famous theatre director and artistic director of the Russian Academic Youth Theatre (the Bolshoi's neighbor on Theatre Square) — Alexei Borodin and his permanent co-author, the scenographer Stanislav Benediktov. Costumes are by Valentina Komolova, lighting by Damir Ismagilov , while the Spanish dance numbers are produced by the Spanish dancer-choreographers and famous performers of the flamenco, Rosario and Ricardo Castro.
On the podium is the Bolshoi Theatre's Music Director and Chief Conductor Tugan Sokhiev. Rehearsing the part of Carmen are Vardui Abramyan (Erevan Conservatoire graduate, who has appeared with success, among other places, at the Opèra national de Paris, Opèra de Marseilles, Grand Théâtre de Genève, Théâtre du Capitole, Toulouse, Opernhaus Zürich) and the Bolshoi soloists Agunda Kulaeva, Julia Mazurova and Svetlana Shilova. Singing the role of José are Bolshoi Theatre soloist Oleg Dolgov and the Turkish tenor Murat Karakhan who this year appeared with success at the Bolshoi Theatre as Rodolfo (
La Bohème)
and Alfredo (
La Traviata
). The part of Michaëla will be performed by Bolshoi Theatre soloists Anna Aglatova, Dinara Alieva and Anna Nechaeva, that of Escamillo — by Bolshoi Theatre soloist Elchin Azizov and the Georgian baritone Nikoloz Lagvilava, a Tbilisi Conservatoire and La Scala Academy graduate.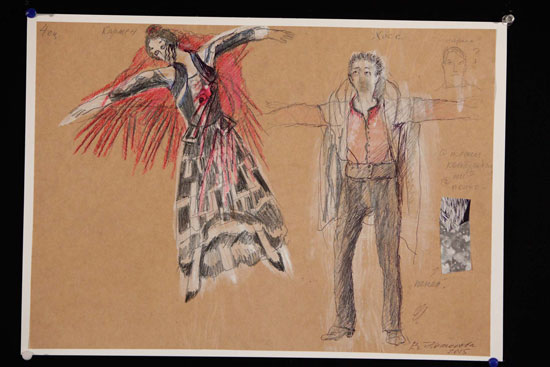 Costumes sketch. Designer Valentina Komolova.
Alexei Borodin who is making his debut in opera with this production comments as follows on
Carmen
, its music and its composer, and his approach to it:
"In general, this is a very paradoxical opera. It is full of sophisticated perfection and, at the same time, it is the most democratic opera in the world! Perhaps this is due to the composer's irrepressible and passionate personality. I'm most impressed by Bizet's involvement in life, the extent to which he took people's problems to heart — he enrolled in the National Guard, tried to change things for the better, he would become disillusioned and once again continue his quest. He was a man of incredible temperament with a much focused mind — a rare combination. And his music is extraordinarily sensual and rational at one and the same time. And in it there is an astonishing honesty. It seems to me that in art this is what is most important.
And the fact that absolutely everything is in the music, one just has to hear it, is at a great joy and a huge obstacle to the profession of opera singer and opera director. And the director's goal here is, on the one hand, not to destroy the dramaturgy and, on the other, not to follow it literally, not to illustrate it. To progress towards an understanding of the musical dramaturgy from within, while at the same time and, not always following the music, plotting the behavior of the characters, is a most interesting and engaging pursuit. The music, after all, tells one what is really happening to a man, though this is not to say he will openly give vent to his emotions. A character may feel one thing and do something quite different and it is at this juxtaposition, counterpoint that a third meaning may arise. This is a story first and foremost about freedom. Real, total human freedom — in judgements, actions and, above all, outlook. And about love as one of its expressions, after all love and passion are always free. It seems to me that this for Bizet is the underlying theme".
The first night series of performances will run from 15-19 July, the second series will be on 4, 6, 8 and 9 September.
Print

| About Us | Repertoire | Artists & Staff | Your Visit | Museum | Shop | Partners |
| --- | --- | --- | --- | --- | --- | --- |
| | | | | | | |