The Reflected Light of Passion
27.02.2015
"We attempt to examine this work as the history of an illness — not so much clinical, as psychological, or rather metaphysical, because a passion which consumes a man, burns him up, — amounts to a passion to win, get the better of life in a split second, one fell swoop. But this is an illusion which pursues us all and to which, it seems to me, the entire world is subject. No one wants the process, all want the result. And this, alas, nearly always leads to self-annihilation, because life is not for winning. One can only lose it, or live it in accordance with one's destiny or to the best of one's ability, in other words, it is a fairly tough and tragic process. It is when we turn our backs on this process, that illness crops up. It is not just Hermann, it seems to me, who is devoured by this disease, all the characters in the opera are, who bait him, while suffering from it themselves. The Countess is affected by the reflected light of passion, as is Liza who falls for Hermann just because he is capable of passion — as distinct to Eletsky whose only trump card is his nobility. Herein too lies illness and the eternal tragedy of this kind of choice. And it is this that interests me." (from an interview in the Paris Russkaya Mysl newspaper).
Lev Dodin launched his The Queen of Spades in 1998, in Amsterdam. In 1999 the production opened the Maggio Musicale Fiorentino Festival and, in the autumn of the same year, it was shown at the Opéra Bastille. The production caused a sensation and it has had a felicitous performance history — virtually ever since the day of its première (for the best part of seventeen years) it has been had very much in demand. The Paris Opéra renews its Dodin's Queen of Spades with an enviable constancy (its last 're-make' was as recent as 2012). In the director's own words, these revivals are never simply 'mechanical' repetitions. He always elaborates, corrects, changes points of emphasis. And such is his approach to his work at the Bolshoi: rather than simply repeating the Paris version, the Moscow The Queen of Spades will be given a new lease of life. All the more so because this will be the first opera Dodin has produced in Russia.
Strangely enough, Lev Dodin is virtually unknown in his own country as an opera producer. In the West,
however, he has long been acknowledged as a maître in this field, working successfully for leading opera
houses, among which are La Scala, the Fiorentina Comunale, Vienna State Opera, Paris National Opéra,
Théâtre du Châtelet... It was the great Claudio Abbado who first noticed that Dodin had the potential to
be an outstanding director of opera and the extraordinary musicality of his dramatic productions. He was the initiator of their co-production of Elektra at the Salzburg Festival, and then in Florence. And thus Dodin's opera career took off. Later on he would work with the illustrious conductors — Semyon Bychkov, Mstislav Rostropovich, Valery Gerghiev, Gennady Rozhdestvensky, Zubin Mehta, James Conlon...
His production at the Bolshoi has brought him together for the first time with Mikhail Jurowski — the head of the famous Jurowski conducting dynasty, a sensitive and intelligent interpreter of both opera and symphonic music. It is of interest that Mikhail is the third Jurowski to be associated with Dodin's The Queen of Spades. His sons conducted the production at the Paris Opéra: Vladimir — the 1999 première, Dmitri — the last revival in 2012.
The sets for The Queen of Spades were created by the legendary theatre designer David Borovsky
(1934-2006)
who, in the course of his lifetime, did the scenography for over one hundred and fifty productions. In cooperation with such eminent directors as Leonid Varpakhovsky, Yuri Lyubimov, Anatoly Efros, Oleg Efremov, Lev Dodin, he did the sets for many designer label productions which have made theatre history. The caretaker designer for the Bolshoi production is David Borovsky's son — Alexander Borovsky, a well-known scenographer in his own right (author of the sets for the Bolshoi's previous production of The Queen of Spades).
Costumes are by Chloé Obolensky, who works extensively in theatre, music theatre and cinema. For the past twenty years she has designed costumes for Peter Brook.
The Queen of Spades is lit by Jean Kalman, lighting designer for the Royal Shakespeare Company, who cooperates on a regular basis with Pierre Audi, Peter Brook, Robert Carsen, Peter Stein and other eminent directors.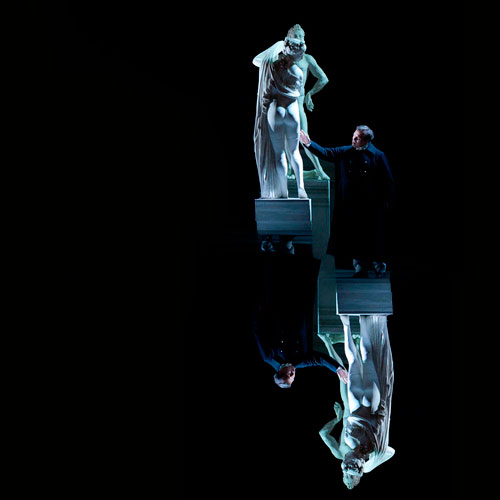 The lead will be sung by Vladimir Galouzine, Lev Dodin's first (and virtually permanent) Hermann, acknowledged to be one of the best interpreters of this role in the world. The role of Lisa will be performed by Evelina Dobracheva, a Berlin Hochschule für Musik Hanns Eisler graduate, who possesses "gleaming, focused and powerful, though sometimes steely" voice (New York Times). Appearing as The Countess will be the Mariinsky Theatre soloist, Larisa Dyadkova (who has already appeared in this part in Lev Dodin's production), Bolshoi Theatre guest soloist Elena Zaremba and Bolshoi soloist Irina Dolzhenko. Tomsky will be performed by Alexander Kasyanov, who last year made a successful Bolshoi Theatre debut in The Tsar's Bride première. Cracow Opera soloist, Stanislav Kufluk, will sing Eletsky.
The first series of première performances are on 27 February and l, 3, and 5 March. And there will be further performances on 15,
17 and 19 May.
Print

| About Us | Repertoire | Artists & Staff | Your Visit | Museum | Shop | Partners |
| --- | --- | --- | --- | --- | --- | --- |
| | | | | | | |