*****
17.12.2013
The Don Carlo performance history at the Bolshoi Theatre is a short one. The opera was premièred at the Theatre on 2 November 1876 by an Italian troupe — there were a total of ten performances after which Don Carlo disappeared for a long time out of the repertoire. Its next appearance on the Theatre playbills was due to the initiative of Fyodor Chaliapin — there was just one performance on 10 February 1917 (Chaliapin sang King Philip). The third production to mark the 150th anniversary of Verdi's birth opened at the Theatre on 25 October 1963 and this time Don Carlo remained in the repertoire for twenty-five years.

For the bicentennial of Verdi's birth which this year has been celebrated across the globe, the Bolshoi has invited the eminent British director, Adrian Noble, to do a new version of Don Carlo. An acknowledged expert on Shakespeare (for 13 years he was artistic director of the Royal Shakespeare Company and is the author of the book How to do Shakespeare), he is also known as a director of musicals and operas: the span of his interest ranging all the way from baroque opera to the modern musical. He has worked for the Glyndebourne Festival, the Opera Festival at Aix-en-Provence, the Metropolitan, La Scala, Wiener Staatsoper and for other Companies (over 20). He has received more than 20 Olivier Award nominations.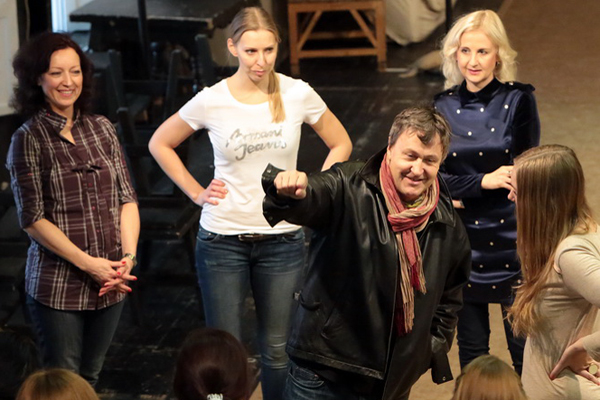 Photo by Damir Yusupov.

Adrian Noble:
"I belong to the ranks of those directors who trust authors and follow their dramaturgy. Great works talk to us directly across the centuries. And a story which in its time attracted one of the 'chief' romantics — Schiller, and then Verdi, the first composer of the Risorgimento, is still topical today. Both Schiller and Verdi examine the issues of state and the individual, of politics and the freedom of man. In Don Carlo one feels a thirst for freedom, I would even say that the spirit of revolt hovers in the air.
It seemed to me natural and logical not to transfer the action of the opera to a different age. If we manage to recreate the world of 16th century Spain on stage, that atmosphere of itself will shock the contemporary spectator and there will be no need to resort to additional directorial devices.
Imagine to yourself: a huge, rapidly growing empire which is held together by the mighty power of king, Inquisition and army. A society which wages a battle against nonconformists, in which rigid ceremonial plays a huge role and live human emotions are dangerous and carry death in their wake.
Luckily there are a lot of portraits of the historical prototypes of the opera's heroes and we know exactly what they looked like. Their clothes — the external expression of their status in the rigid hierarchy, their duties and their lack of freedom. They are confined in their clothing as if it was a cocoon. Each character to some extent is in prison, each is bound by his duty. Philip II cannot be father to his son — he is a monarch aware of his mission before God and to the empire. Don Carlo is heir to a huge empire, but his convictions are absolutely opposed to those of his father. Elizabeth is queen and does not have the right to show her feelings. And they are all terribly lonely".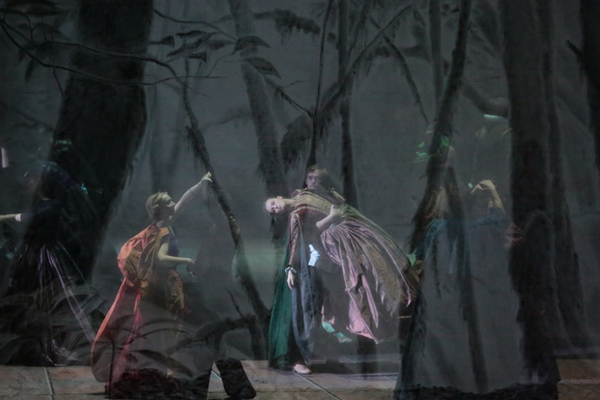 Photo by Damir Yusupov.

Scenography is by Tobias Hoheisel, the German designer famous for his bold ideas, subtle intuition and for his never failing ability to bring out the core of whatever he is working on. "He is a designer whose vision is always original and only predictable in that you can be sure you will be surprised and delighted. He seems to dig deep into his imagination, inspired by the music to which he is so sensitive, and produce design ideas that are exciting, challenging and which reveal yet another aspect of his highly creative mind" (photographer Clive Barda). Tobias Hoheisel has worked with the following, among other, outstanding directors: Nikolaus Lehnhoff, Brigitte Fassbaender, Johannes Schaaf, Jonathan Miller, Stephen Lawless, Graham Vick, David Pountney, Lucinda Childs, Robert Carsen. He has designed productions for London's Royal Opera, La Scala, Opéra National de Paris, Opéra de Lyons, Teatro Real (Madrid),Gran Teatro Liceu (Barcelona), Wiener staatsoper and for other major opera houses the world over.

Costume designer is the young German artist Moritz Junge who works in theatre, opera (collaborating with David McVicar, James Macdonald, Peter Hall and others) and ballet (he often cooperates with choreographer Wayne McGregor). He is known to Bolshoi Theatre audiences for his costumes for the ballet Chroma.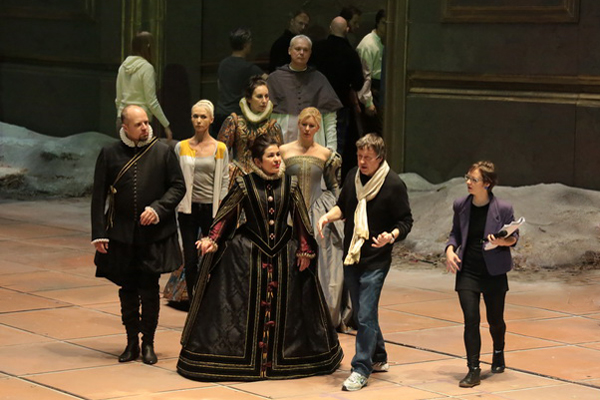 Photo by Damir Yusupov.

The production has a brilliant cast. Philip II will be sung by Bolshoi Theatre soloist Dmitri Beloselsky, who has an established international career, and Rafal Siwek — acclaimed for his interpretations of Verdi heroes — Philip II, Grand Inquisitor, Ramphis and Zaccaria.
Appearing in the part of Don Carlo are Andrea Caré, a leading young Italian tenor and Luciano Pavarotti's last student, and Hector Sandoval — "The Mexican tenor has everything he needs for a great career: bright gold in his voice, good looks, temperament and acting talent. In short: A singer and actor par excellence!" (Weser-Kurier). Interpreting Elizabeth will be the young Bolshoi Theatre stars Veronika Dzhioeva and Anna Nechaeva. Roderigo will be sung by Bolshoi Theatre soloist Elchin Azizov and the baritone Igor Golovatenko who works on a permanent basis (and very successfully) for the Bolshoi Theatre. Bolshoi Theatre soloist Vyacheslav Pochapsky together with Bolshoi guest artist Pyotr Migunov will sing the Grand Inquisitor. Appearing as Eboli will be the international star Maria Gulegina and Elena Bocharova — who has sung with success in the USA and Europe.

The première performances will be on 17, 18, 19, 20, 21 and 22 December.
Print

| About Us | Repertoire | Artists & Staff | Your Visit | Museum | Shop | Partners |
| --- | --- | --- | --- | --- | --- | --- |
| | | | | | | |