*****
28.02.2013
MOSCOW: according to legal experts The Bolshoi Theatre official valuation of its trademarks is an important step in Theatre struggle against ticket touts.

The market price for trademarks which belong to the Bolshoi theatre of Russia has been appraised as amounting to 1.898 billion rubles.

The valuation will be used to determine losses caused by the illegal use of the Bolshoi Theatre trademarks. Vladimir Entin, director of the Centre for Intellectual Property Legal Protection and a member of International academy of comparative law (France) said: "The Bolshoi Theatre has obtained an effective tool to deal with unscrupulous entrepreneurs that set up business based on ticket speculation, unfair staging activities or sale of counterfeit items bearing the trademark of the Bolshoi Theatre.

The appraisal of trademarks, which was ordered by the Bolshoi Theatre of Russia, has been completed. It has been carried out in accordance with the Federal Law of Valuation Activities of the Russian Federation and International and Federal standards of valuation, approved by orders of the Ministry of Economic Development of the Russian Federation.

Reference: Trademark is the legally registered word, phrase or symbol or combination thereof that legally identifies a company and its goods and services. Trademarks of the Bolshoi Theatre, the market price of which is appraised as 1.898 billion rubles, represents an image of the Theatre building facade, the words BOLSHOI in capital letters in the Cyrillic and Roman alphabets and at the bottom are the words theatre and the year of the Theatre foundation. The image of the Theatre historical building facade and the word BOLSHOI in capital letters in Russian or the Roman alphabet or any transmission via the spoken word are legally protected: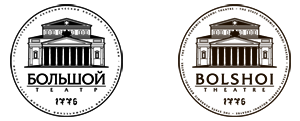 In order to obtain the official valuation of the value of the trademarks the lawyers of the Theatre have accomplished unique work of valorizing the mark through licenses to use the trademarks of the Bolshoi Theatre in specific cases.
Thanks to this, the Bolshoi Theatre has become the first Russian cultural institution, which has obtained recognition of its trademark as universally well known. An official certificate from Rospatent № 91 has been issued to that effect.
Under the applicable legislation (Art. 1515 Part 4 of the Civil Code of the Russian Federation) there is a compensation for the fact of trademark right violation amounting up to 5 million rubles.
Print

| About Us | Repertoire | Artists & Staff | Your Visit | Museum | Shop | Partners |
| --- | --- | --- | --- | --- | --- | --- |
| | | | | | | |