Grandeur and Simplicity
25.10.2016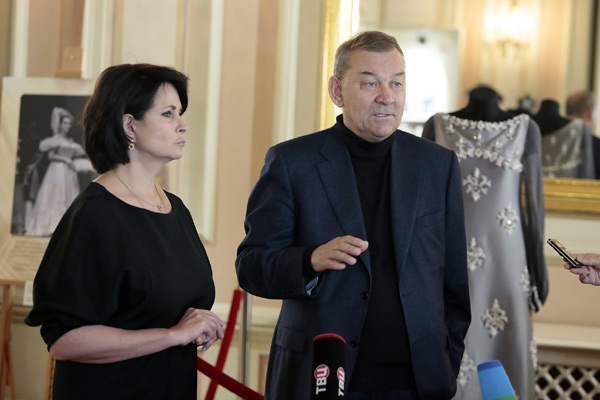 Olga Rostropovich and Vladimir Urin. Photo by D. Yusupov.

Galina Vishnevskaya. Grandeur and Simplicity… - such is the title of the exhibition, which is on view in the Bolshoi Theatre Main Building Choral and Exhibition Halls.
The exhibition, without exaggeration, illustrates Vishnevskaya's entire career. There are photographs of her in all the roles in which she appeared at the Bolshoi Theatre, as well as posters and programmes from the productions.
In the centre of the Choral Hall there is a 'separate' exhibition of theatre costumes – Aida, Floria Tosca, Cio-Cio San, Marfa (The Tsar's Bride).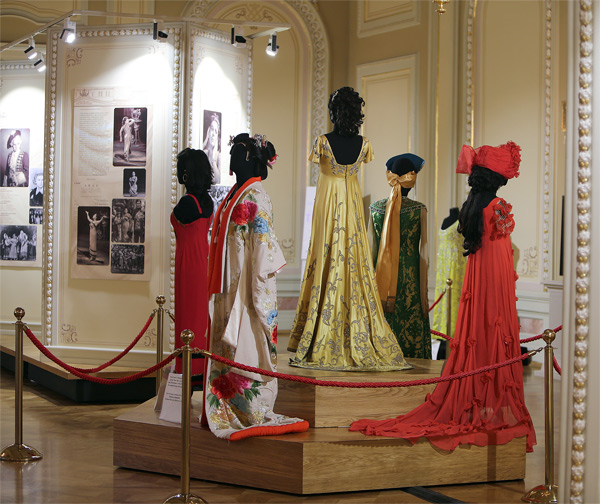 On show in this hall are Galina Pavlovna's concert costumes and manuscripts, her gramophone and record collection, as well as her collection of Palekh boxes depicting her in her great roles.
The exhibits in the Exhibition Hall illustrate the singer's career outside the Bolshoi Theatre. There is an entire stand of photographs devoted to her work at The Centre for Opera Singing, Vishnevskaya's 'favorite child'.
There are many photographs of the people who surrounded her, the most important figures here, naturally, being her husband – the great and 'domestic' Mstislav Rostropovich, her children, grandchildren, and those people who played a major role in her career and dedicated to her their works – Dmitri Shostakovich and Benjamin Britten, whose manuscripts are also on view in this largescale exhibition.
Galina Pavlovna had a great many orders and other awards. Just how many may be seen from a visit to the exhibition. Another key exhibit, of course, is "Galina", Vishnevskaya's autobiography, in different editions and in different languages.
Even the exhibition's name comes from this book. "During the Bolshoi Theatre 1969 Paris tour, Mark Chagal came to a performance of Onegin. Afterwards he visited me backstage and said: 'What grandeur and simplicity!' For me this was the highest of all praises. For grandeur and simplicity was what I aspired to all my life in art". (Galina Vishnevskaya. Galina).
The first tour round the exhibition was conducted by Olga Rostropovich, the singer's daughter and the artistic director of the Galina Vishnevskaya Centre for Opera Singing, who went out of her way to point out that some of the exhibits – personal photographs, for instance, had never before left the Rostropovich home, and were on show for the first time.
There are also items on view from the Mstislav Rostropovich and Galina Vishnevskaya personal archive and the Galina Vishnevskaya Centre for Opera Singing archive. The curators of the exhibition are Larisa Chirkova, the curator of the M.L. Rostropovich and G.P. Vishnevskaya personal archive and Alexander Gayduk, who is in charge of the museum and publishing section of the Galina Vishnevskaya Centre for Opera Singing.
The Exhibition will be open till II December. It was four years ago, on this day, that the great singer passed away.
Print

| About Us | Repertoire | Artists & Staff | Your Visit | Museum | Shop | Partners |
| --- | --- | --- | --- | --- | --- | --- |
| | | | | | | |