The Bolshoi Theatre YouTube Channel received YouTube Silver Play Button
29.09.2020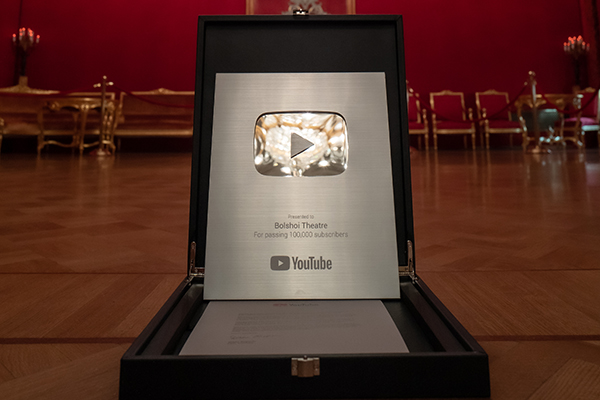 Photo by Batyr Annadurdyev.
Vladimir Urin, General Director of Bolshoi Theatre:
"We are happy to receive YouTube Silver Play Button. This is an honor for us – evidence that Bolshoi Theatre was able to conquer even virtual space with its art. Free streaming of our performances became possible thanks to the efforts of many people. I would like to express gratitude to our partners – companies BelAir Media, Pathé Live, Mezzo, Google. YouTube Silver Play Button means that Bolshoi Theatre is loved across the globe. And this is the most important thing".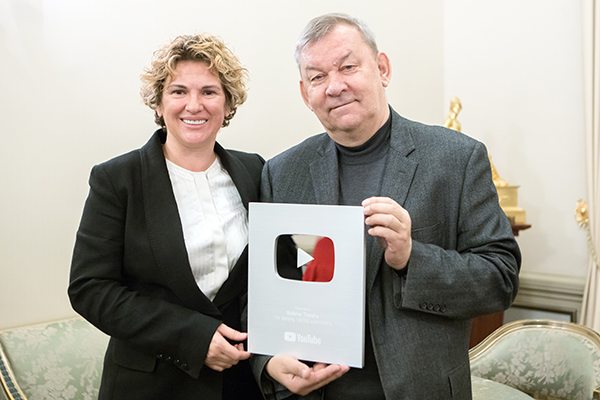 Julia Solovieva & Vladimir Urin. Photo by Damir Yusupov.
The Bolshoi Theatre entered top three popular YouTube theatres during the streaming of performances from Golden Fund which took place March – May 2020. It is based both on the number of subscribers and the number of views worldwide. Our performances hit first positions of Russian and global vide hostings including in Russia, Canada and Hong Kong.
The Nutcracker
, for instance, was simultaneously viewed by 80 thousands of people.
Julia Solovieva, Head of Google in Russia:
"If we can find anything positive in sitting at home, it would be the possibility to look at usual things differently. Thus, The Bolshoi Theatre re-thought the approach of its presence on YouTube by posting its best performances online. Viewers were thrilled! Moreover, The Bolshoi became one of the top three world leaders in terms of subscribers' growth among other theatres. We are already discussing which tools and technologies can we use to attract more online viewers and come back here again with "YouTube Golden Play Button".
The Bolshoi Theatre showed 14 performances on YouTube in March and April 2020. Viewers from more than 130 countries spent 2 million hours in front of the screen enjoying the best operas and ballets. Watch the video to find out more.
Print

| About Us | Repertoire | Artists & Staff | Your Visit | Museum | Shop | Partners |
| --- | --- | --- | --- | --- | --- | --- |
| | | | | | | |