Bolshoi Ballet in Cinema
24.01.2016
In 2014, the illustrious French choreographer Jean-Christophe Maillot created a ballet (The Taming of the Shrew) to music by Shostakovich specially for the Bolshoi Theatre – it was the first time in twenty years that he had produced a ballet for a company other than his own (Les Ballets de Monte-Carlo). Given a tremendous reception on its first night, the Bolshoi's The Taming of the Shrew also carried off three Golden Masks (Russia's leading performing arts award): best ballet, and best male and female role (Vladislav Lantratov as Petruccio and Yekaterina Krysanova as Katarina). The live relay will give ballet lovers across the world a chance to see this marvelous production, while Russian viewers will have access to it too via YouTube which is also going to relay it live from the Bolshoi New Stage.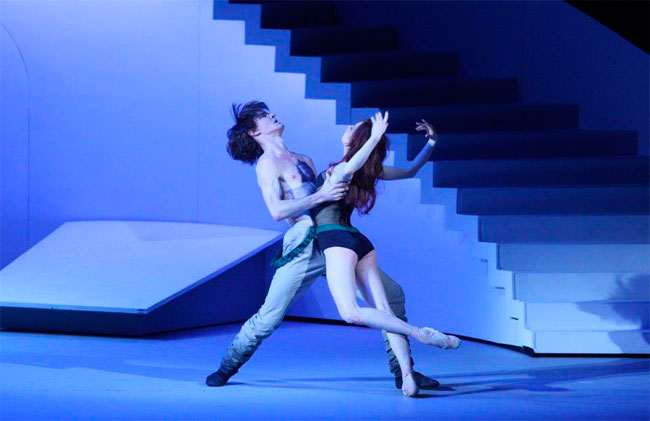 Ekaterina Krysanova as Katharina, Vladislav Lantratov as Petruchio.
Photo by Elena Fetisova.
Bel Air Media
Pathé Live
The Bolshoi Theatre
CoolConnections (Russian cinemas) 
PRESENT
Bolshoi Ballet in Cinema: The Taming of the Shrew 
Live recording
24 January 4 pm (Paris time)
CAST
SCHEDULE
Print

| About Us | Repertoire | Artists & Staff | Your Visit | Museum | Shop | Partners |
| --- | --- | --- | --- | --- | --- | --- |
| | | | | | | |