Bolshoi Ballet is back to the screen again!
08.06.2020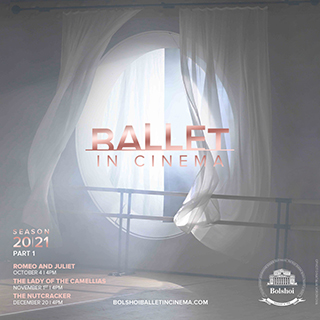 We are nearing lockdown exit, starting to resume our work schedule and form our bill. As of now, we are already ready to present the 'cinematic' part.
Even now the first broadcasts of the next, 245
th
season, are identified.
Romeo and Juliet
, mounted by Alexei Ratmansky, which is one of the latest premieres of the Bolshoi Theatre, will be shown first, followed by XX century classic –
Lady of the Camellias
by John Neumeier and our New Year's traditional –
The Nutcracker
by Yuri Grigorovich. All performances, of course, are pre-recorded. (We are hoping to add live streaming to the list during the second half of the season, however, it is still early to say). We hope that ballet lovers around the world will welcome this good news with enthusiasm!
October 4
Romeo and Juliet
(Recorded January 21, 2018)

November 1
Lady of the Camellias (Recorded December 6, 2015)

December 20
The Nutcracker (Recorded December 23, 2018)


Print

| About Us | Repertoire | Artists & Staff | Your Visit | Museum | Shop | Partners |
| --- | --- | --- | --- | --- | --- | --- |
| | | | | | | |