2020-21 BEGINNING
06.09.2020
Dear Friends! We have not lost a touch with you since the start of quarantine. You watched our broadcasts and shared opinions, followed our social media to see how our artists kept the shape, asked questions, morally supported Bolshoi and expressed hopes to meet again soon. No need to mention that Bolshoi lived with the same hope. We are glad that our artists will finally appear on the great stage of Bolshoi again, and we are looking forward to our beautiful space being filled in with your living breath.

Tickets sale for September repertoire launches on 15 August, and we are sure you will be able to find something interesting for each of you. We are absolutely confident for the first performance on the list. We are happy as well that we have prepared such a wonderful surprise for the opening of the 245th season!

6, 8 and 10 September, Historic Stage will be at mercy of Don Carlo by Giuseppe Verdi. This is a grand opera based on historical events. It is one of the greatest works of the composer, and is not performed as often as some of his other masterpieces-"hits" that are performed worldwide. Bolshoi's current production was staged in commemoration of the bicentennial of the composer's birthday by the eminent British director, Adrian Noble. This production reflects gloomy magnificence of Spanish court of 16th century with amazing costumes that are resembling the real dresses to the utmost and praises the never-ending pursuit of human freedom. It is that type of opera about which we say: impossible to stage if we do not have a particular performers of the main parts. We open our performance with CONSTELLATION of artists. ANNA NETREBKO will debut as Elizabeth of Valois. Her name reflects the best possible epithets around her persona. YUSIF EYVAZOV will sing a part of Don Carlo, ILDAR ABDRAZAKOV – Philip II, the King of Spain, AGUNDA KULAEVA – Princess Eboli, ELCHIN AZIZOV – Rodrigo!

Spouse Anna Netrebko and Yusif Eyvazov have opened opera season in Dresden in June with Don Carlo. It was a concert version, however a shorter one. So we have every right to consider this performance by Anna Netrebko as her debut and are eagerly waiting for it. "This is the biggest joy since the beginning of pandemic!" – comments Süddeutsche Zeitung paper about the role of Elizabeth (23 June, 2020).

Anna Netrebko performed at the Bolshoi earlier on the opening night of Manon Lescaut by Puccini (2016).Her title role gained a tremendous success. (Soon after Don Carlo, she will continue her collaboration with Bolshoi). Yusif Eyvazov permanently performs with us (as Don Carlo, Des Grieux, Herman, earlier – Mario Cavaradossi). Ildar Abdrazakov has already sung a part of King Philip at Bolshoi a few times – music lovers remember they were incredible experiences. Moreover, of course, we are proud to present our leading artists – Agunda Kulaeva and Elchin Azizov who are occupied in the most of our repertoire.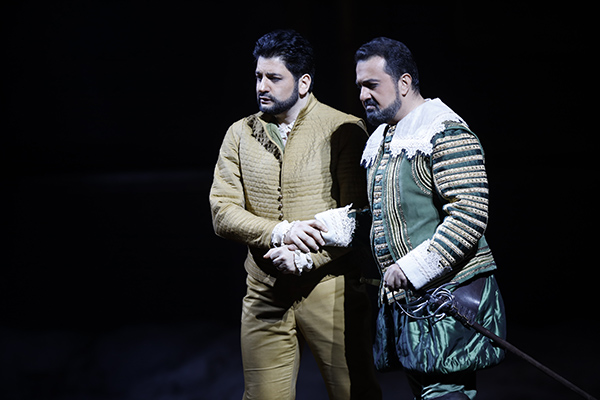 Yusif Eyvazov as Don Carlo. Elchin Azizov as Rodrigo. Photo by Damir Yusupov.
Print

| About Us | Repertoire | Artists & Staff | Your Visit | Museum | Shop | Partners |
| --- | --- | --- | --- | --- | --- | --- |
| | | | | | | |